Herbed Oven Roasted Whole Chicken comes from our love of Thanksgiving comfort food. We are huge fans of serving traditional Thanksgiving favorites like our 3 Ingredient Cranberry Sauce and Savory Stuffing year round. It is not always practical to make a whole turkey for Shabbat or Yom Tov, so this recipe offers similar flavors at a fraction of the size. This recipe is kosher, non-dairy, and gluten free. Read on to learn how to make the best Thanksgiving Style Herb Roasted Chicken right at home.
Jump to:
Why This Recipe Works
Quick preparation and cook time. Making a turkey can be a whole day affair but this roasted chicken recipe is much smaller and does not need as much time in the oven.
Easy to make. Split the chicken and apply a simple herbed coating. Cook and done. That's it!
Super tasty. Thanksgiving food always has the best flavor combinations and we don't always think to make other foods with those same flavors. Roasted chicken and turkey share some of the same flavor and texture profiles so why not make a super tasty chicken dish the same way as a Thanksgiving turkey!
Budget friendly. Things may be different in your area but at the time of this post turkey prices were through the roof expensive. This recipe uses chicken which is much more budget friendly.
Smaller size. Turkey is wonderful but you may not always have a crowd big enough to eat it all. This recipe is easier to adjust for a smaller (or larger) crowd.
A Step by step guide to making this recipe
Step 1 - Prepare your herbs.
I have heard this called Scarborough Fair chicken because it uses parsley, sage, rosemary, and thyme. Hopefully you heard the song as you read that because I certainly did as I was writing it. Start by finely chopping your herbs.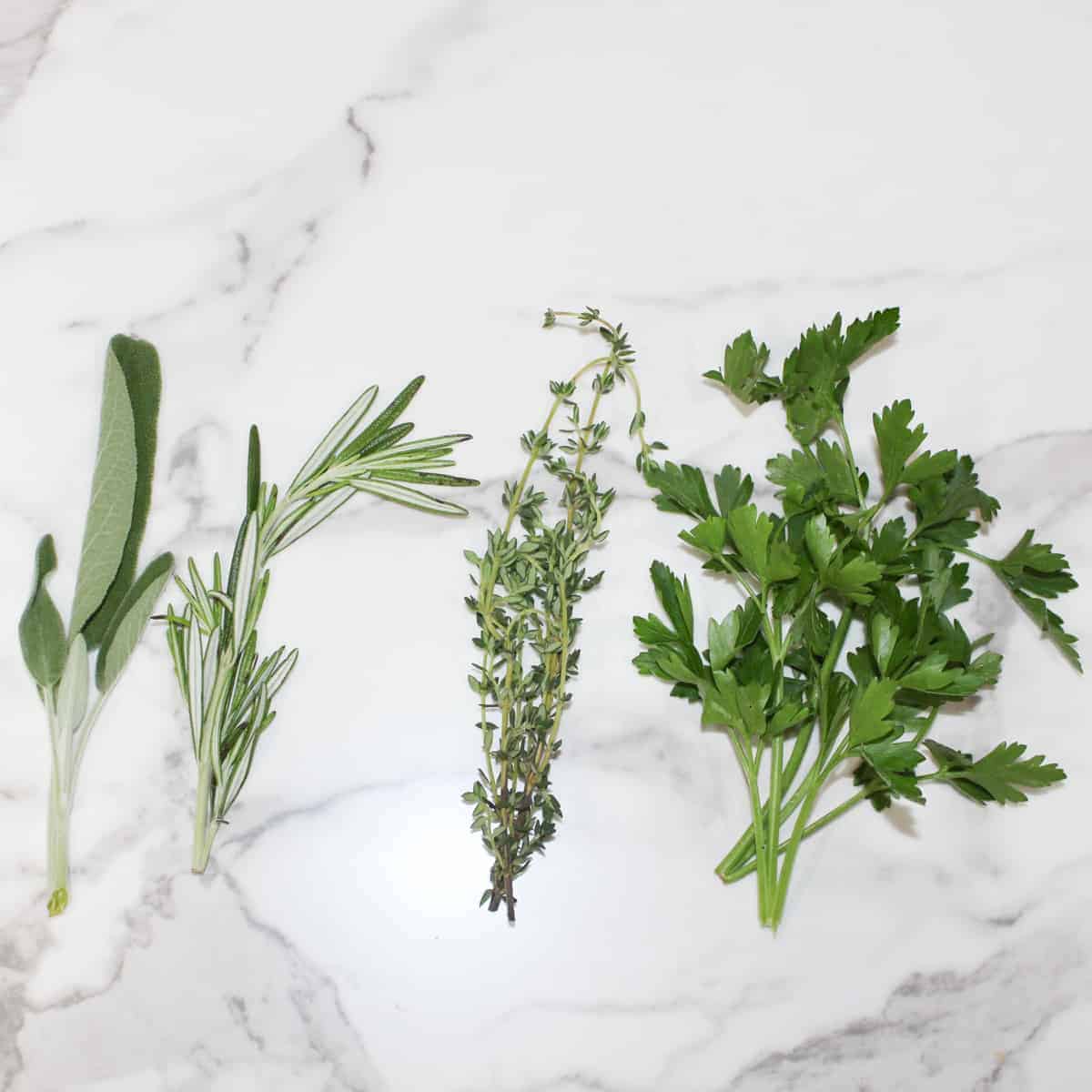 Step 2 - Make the butter coating.
Since this is a kosher recipe we use a non-dairy butter substitute. Thankfully, we live in the golden age of butter substitutes and this is not a problem. Pick your favorite and add the chopped herbs and blend away. We use this mini food processor which works great and is much easier to clean than a blender and mixes in the tiny herbs better than a full size food processor.
Step 3 - Coat the chicken.
If you cook the chicken whole, coat the outside and inside of the chicken cavity with the herbed butter and then lay it into the roasting pan on top of the carrots, celery, and onion in the pan. If you are feeling a little more adventurous, you can spatchcock the chicken. While we will not go into depth for the process for doing that in this recipe, it involves slicing the chicken down the sternum and removing it. If you are uncomfortable doing this, ask your butcher to spatchcock the chicken for you. This allows you to spread the chicken out while keeping it intact and apply the herbed butter evenly over all of the surfaces like this:
Step 4 - Cook the chicken.
If you are cooking the chicken whole, Bake at 375º for 90 minutes. If spatchcocked, Bake at 400ºF for 45 minutes uncovered and skin side up. Either way, baste halfway through. If you would like to be sure that the chicken is done, insure that he internal temperature reaches 165ºF. You can serve it just like this:
You can also carve it like a Thanksgiving turkey and serve it in slices. Be sure to save the bones and use them to make our Shabbat Chicken Soup. Let the chicken rest for 20 minutes before serving.
Recipe FAQ
What herbs go well on chicken?
Chicken is has a very neutral flavor which makes it an excellent vessel for all kinds of flavors. Sage, oregano, basil, parsley, rosemary, thyme, tarragon all go well on chicken.
Do you bake a whole chicken covered or uncovered?
We like to cook our whole chickens uncovered. This ensures that the chicken will cook to an internal temperature of 165ºF and still have crispy skin. Leaving the chicken uncovered is the key to crispy delicious chicken skin.
How can I store my leftover chicken?
Once the chicken has cooled, place into a resealable plastic back or airtight container and seal. It should last 3-5 days in the refrigerator. If you think that it will be longer than that, you can freeze the chicken meat. Chicken freezes very well and is a great food to pull out of the freezer on those nights when you are looking for dinner plans but don't want to cook.
Tips and Serving Suggestions
With cranberry sauce. It is a given that any time we have Thanksgiving flavors on our plates we serve it with our 3 Ingredient Cranberry Sauce.
With stuffing. Choose your favorite stuffing recipe as a side.
Chicken salad. Strip the chicken meat off of the bones and add ½ cup of mayonnaise for chicken salad.
Alongside cornbread. Our Skillet Baked Cornbread is a perfect compliment to and chicken recipe.
Salads galore. Load up on the veggie sides with our recipes for Easy Israeli Salad, Red Cabbage Salad, Potato Salad, and Quinoa Salad with Raisins.
BBQ Chicken Salad. Earlier, we posted a delicious recipe for BBQ Chicken Salad and using this chicken will make for a new twist on that recipe.
Oven roasted whole chicken and potatoes. Add 3 diced potatoes to the bottom of the pan before baking.
More recipes like this one
Did you enjoy this recipe? Let us know by leaving a comment below.
📖 Recipe
Herbed Oven Roasted Whole Chicken
Thanksgiving flavor all year round.
Print
Pin
Ingredients
3

tablespoon

non dairy butter

room temp

1

tablespoon

fresh parsley

1

tablespoon

fresh sage

1

tablespoon

fresh rosemary

1

tablespoon

fresh thyme

1

teaspoon

kosher salt

or to taste

black pepper

to taste

1

onion

sliced

1

carrots

chopped

1

stalk

celery

chopped
Instructions
Preheat oven to 400 F if cooking spatchcock or 375 F if roasting whole.

Chop fresh herbs and pulse in mini food processor until finely chopped. Add plant butter, salt, and pepper and process until well combined. Set aside.

Prepare baking pan with sliced onions, carrots and celery. Set aside.

Now is the time to spatchcock the chicken, if doing so. Pat all sides of chicken dry with paper towels.

Smear inside and outside of chicken liberally with herb butter mixture.

Carefully place chicken in baking pan on top of sliced onions/vegetables.

If cooking spatchcock roast at 400ºF for 45 minutes or until internal temp reaches 165ºF. Baste halfway through and again at the end.

If cooking the chicken whole, roast at 375ºF for 90 minutes or until internal temperature reaches 165ºF. Baste halfway through and again at the end.

Allow chicken to rest for 20 minutes. Cut up or carve and serve.
Notes
Tips and Serving Suggestions
Nutrition
Calories:
66
kcal
|
Carbohydrates:
3
g
|
Protein:
1
g
|
Fat:
6
g
|
Saturated Fat:
1
g
|
Polyunsaturated Fat:
2
g
|
Monounsaturated Fat:
3
g
|
Trans Fat:
1
g
|
Sodium:
447
mg
|
Potassium:
95
mg
|
Fiber:
1
g
|
Sugar:
1
g
|
Vitamin A:
1850
IU
|
Vitamin C:
5
mg
|
Calcium:
24
mg
|
Iron:
1
mg