This kosher recipe for Quick and Easy Chicken Marsala is absolutely delicious and a great way to answer the age old question, "what's for dinner?" Whether it is a Shabbat dinner or just a way to bring the family together between Monday night and Tuesday morning, this recipe is kosher, non-dairy, quick, easy, and super tasty! To learn how to make the best kosher Chicken Marsala recipe, read on.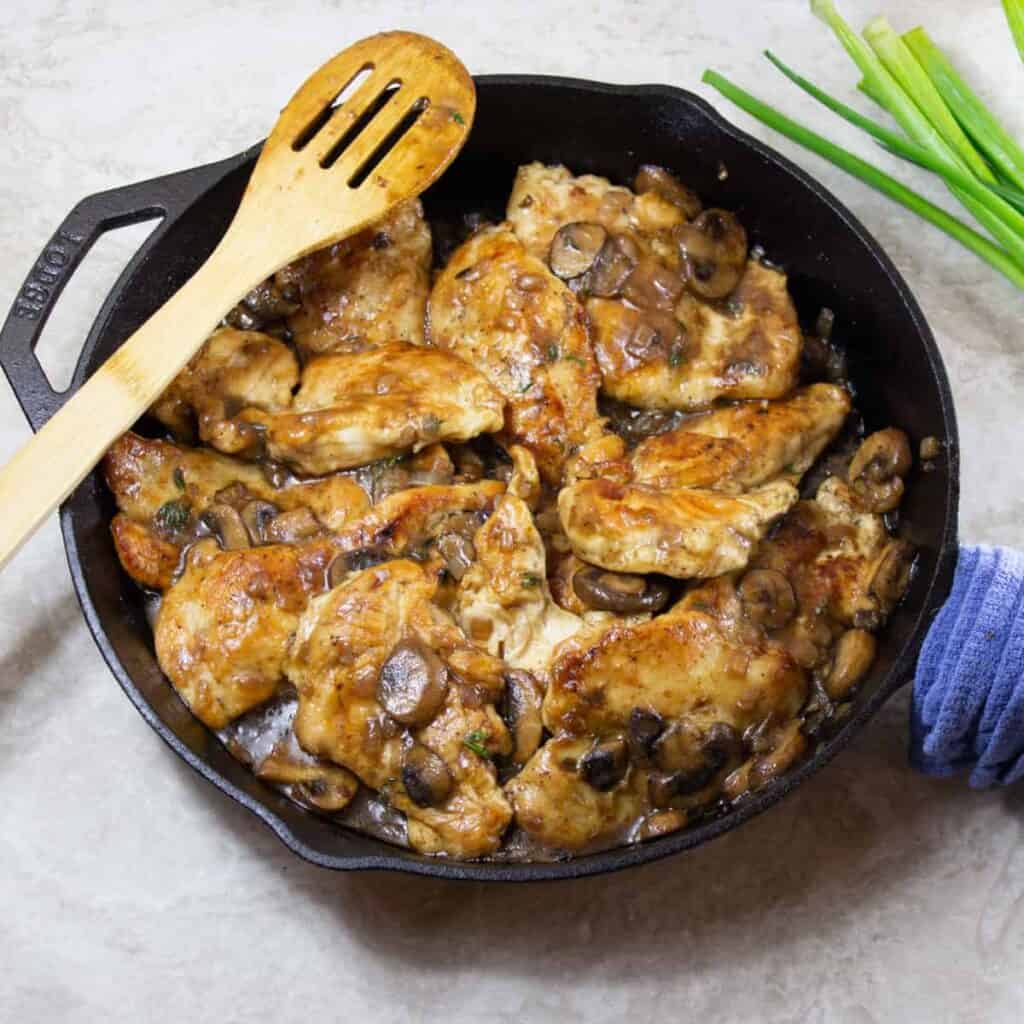 Jump to:
What is Marsala Chicken?
This dish gets is name from the signature Marsala wine that is the main ingredient of the sauce. You can use sweet or dry wine for this recipe. Either way, the alcohol cooks off and leaves behind a delicious kosher cuisine staple recipe.
Chicken Marsala Is Easy To Make
Don't let the fancy name fool you into thinking that this is a complicated dish to make. The kosher Chicken Marsala Recipe requires a lot of the same vegetables and ingredients that you would use in standard chicken recipes. The hardest part of this recipe is slicing the chicken breasts in half. But this recipe requires wine and I won't tell anyone if you pour some in a glass for yourself. Let's be honest here, after a hard day of zoom school, this might be the recipe the doctor ordered.
What Is In Marsala Wine Sauce?
Kosher Chicken Marsala gets its name from the Marsala wine which is used in the sauce. You can use dry Marsala wine or sweet Marsala wine for this kosher recipe. The nice thing about that is that there are some very good kosher Marsala wines available and they are relatively inexpensive. The base of the sauce is established by deglazing the pan after sautéing the mushrooms and onions. Deglazing is just a fancy way of saying "pour wine into a pan full of dried on flavors in order to extract them." The wine along with the dried bits of onion and mushroom cooks together to form the signature kosher chicken marsala sauce.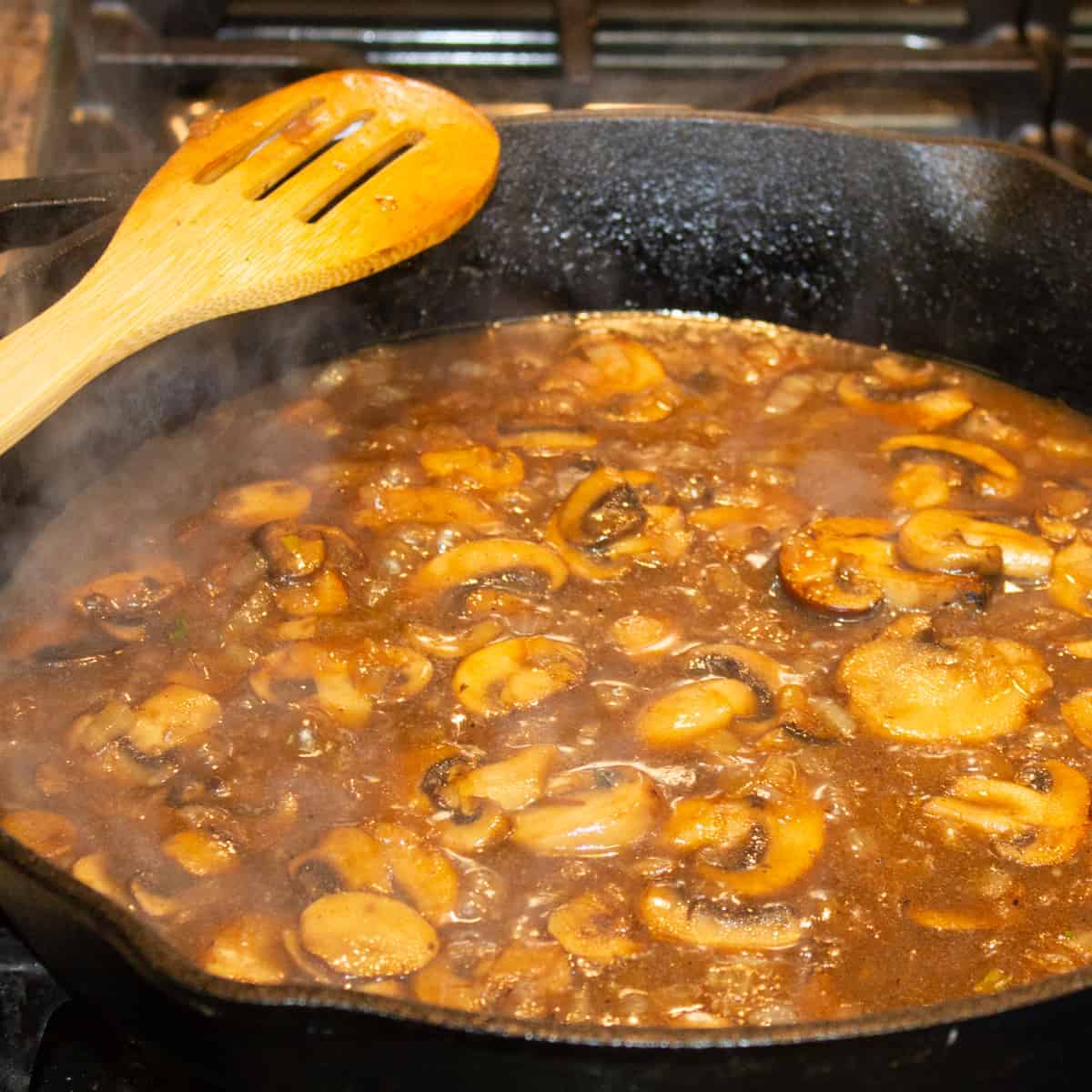 How to Make Chicken Marsala
With a sharp knife, carefully slice the boneless skinless chicken breast in half. The way I like to do it is find the thickest part of the chicken breast and start there. Placing my hand of top of the chicken breast for stability, I carefully slice the chicken lengthwise resulting in two thin slices of chicken.
Season the raw chicken pieces well with salt and pepper and dredge with flour. To "dredge" means to "lightly coat" so be sure to tap off any excess flour. The light coating of flour helps create a slight crispness to the outside while helping to lock in the moisture on the inside.
Cook Chicken & Mushroom Marsala in batches as to not overcrowd the pan. Due to the chicken being sliced extremely thinly each batch cooks very quickly, at 2 minutes per side, so despite needing to cook the chicken in 3-4 batches, it still ends up cooking much faster than most any other chicken dish.
When sautéing the onions and mushrooms for Chicken Marsala keep the heat on the lower end to ensure they do not start to brown or burn. All you want is for the onions and mushrooms to soften for the sauce.
The marsala sauce is added next and is boiled so the alcohol is boiled off while leaving behind the delicious flavor. This combined with the softened onions and mushrooms is the basis for the sauce.
The chicken stock is mixed with cornstarch to dissolve the starch. When heated to boiling, the cornstarch causes the sauce to thicken.
Lastly, add a pat of non-dairy butter and fresh thyme to add a burst of delicious buttery, herby flavor that really takes this dish to the next level.
If you are looking to make this dish on Passover then check out our Passover Chicken Marsala recipe post.
What to Serve With Chicken Marsala
Sides for Chicken Marsala are easy to find since this recipe goes well with everything. Your family and shabbat guests alike will never guess that you did not spend hours in the kitchen when you made Chicken Marsala. There are an endless possibility of sides you could serve with this chicken marsala recipe for a complete meal. We suggest that you pick at least one starch and one vegetable to serve with this dish. Here are some of our favorites:
Angel Hair Pasta with Chicken Marsala
📖 Recipe
Quick and Easy Chicken Marsala
Easy enough for weeknight, fancy enough for guests.
Print
Pin
Ingredients
6

chicken breast

boneless, skinless, halved

1

teaspoon

salt

divided

½

teaspoon

freshly ground black pepper

¼

cup

flour

3

tablespoon

olive oil

divided

½

onion

finely chopped

8

oz

mushroom

sliced

⅔

cup

marsala wine

1

cup

chicken stock

or chicken broth

2

teaspoon

cornstarch

1

tablespoon

non-dairy butter

1

teaspoon

thyme

fresh
Instructions
Slice each chicken breast in half long ways so each piece becomes two thinner pieces.

Pour flour into a small bowl.

Season chicken breasts with salt and pepper and dredge in flour.

Heat skillet to medium high and coat with a tablespoon of olive oil.

In batches, cook the chicken breast pieces for 2 minutes on each side or until cooked through and nicely browned on the outside. Add more oil to the pan as needed with each batch until all chicken is cooked.

While chicken is cooking finely chop onions and wash mushrooms.

Once all chicken is cooked, set aside.

Keeping the heat at medium-high, put another tablespoon of oil in the now empty skillet and add onions and mushrooms and cook until soft but not brown, around 6-10 minutes. Reduce heat if needed.

Once onions and mushrooms are soft pour in marsala and deglaze the pan by bringing the wine to to a boil. Stirring occasionally, cook until most of the liquid is evaporated, about 2-5 minutes.

While that is happening you can prepare chicken stock whisked together with the cornstarch. Once most of the wine has evaporated from the step above, add the chicken stock mixture and cook another 2 minutes until sauce begins to thicken up.

Reduce heat to medium- low, add tablespoon of non-dairy butter and fresh thyme. Stir to mix.

Add chicken back in, coat with mushroom sauce, and cook for 2-3 minutes to reheat chicken.
Notes
If sauce becomes too thick as it cools,  it can be thinned out with water or more chicken stock when reheating. 
What to Serve With Chicken Marsala
Sides for Chicken Marsala are easy to find since this recipe goes well with everything. Your family and shabbat guests alike will never guess that you did not spend hours in the kitchen when you made Chicken Marsala. There are an endless possibility of sides you could serve with this chicken marsala recipe for a complete meal. We suggest that you pick at least one starch and one vegetable to serve with this dish. Here are some of our favorites:
Angel Hair Pasta with Chicken Marsala
Garlic Mashed Potatoes
Nutrition
Calories:
299
kcal
|
Carbohydrates:
12
g
|
Protein:
27
g
|
Fat:
12
g
|
Saturated Fat:
2
g
|
Trans Fat:
1
g
|
Cholesterol:
74
mg
|
Sodium:
596
mg
|
Potassium:
632
mg
|
Fiber:
1
g
|
Sugar:
4
g
|
Vitamin A:
75
IU
|
Vitamin C:
4
mg
|
Calcium:
17
mg
|
Iron:
1
mg
Recipe Categories