Whenever the kids find out we are having kosher Easy Sweet Potato Medallions, there is always an excited scream. The baked sweet potato slices come out sweet and fluffy with a crispy outside. In our house we even refer to them as sweet potato muffins. They are super quick and simple to make and only have 3 ingredients. This recipe is kosher, pareve, non-dairy, and gluten free. Read on to learn how to make the best sweet potato rounds recipe.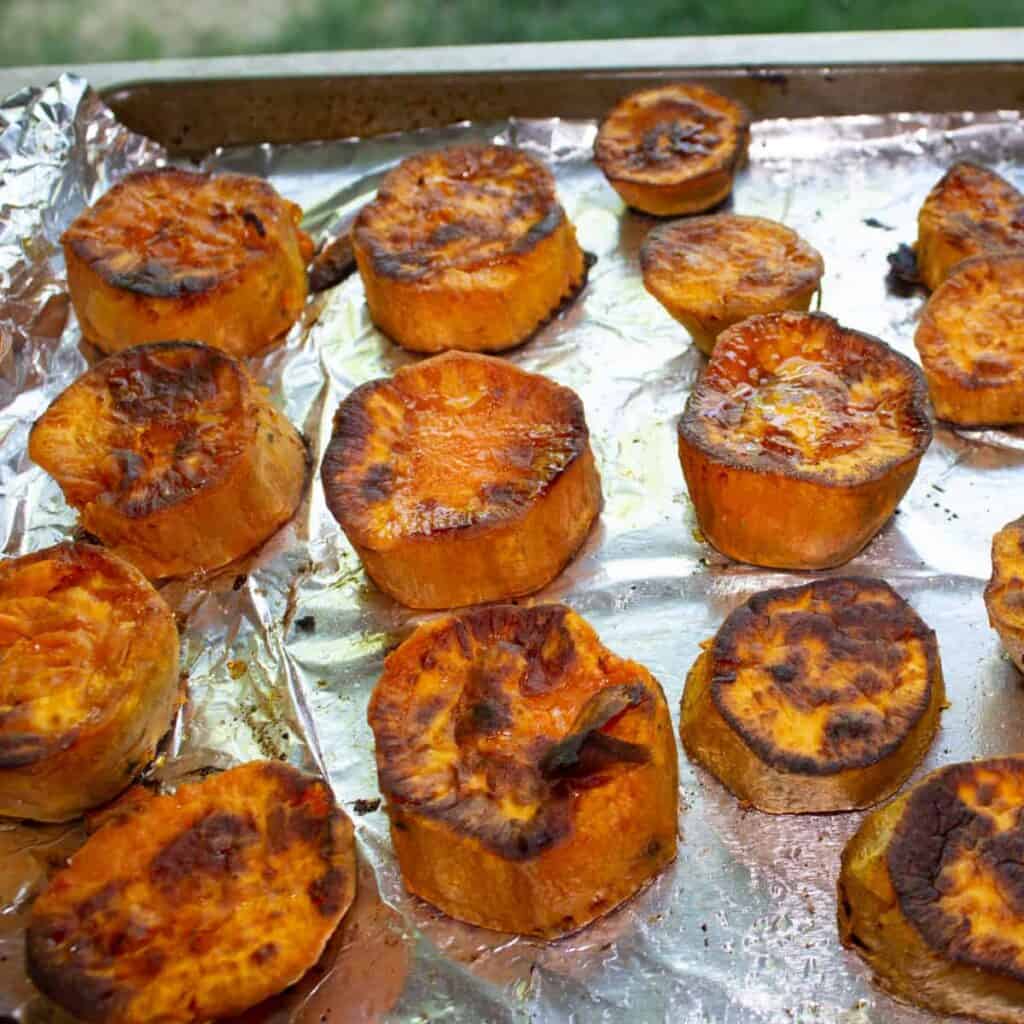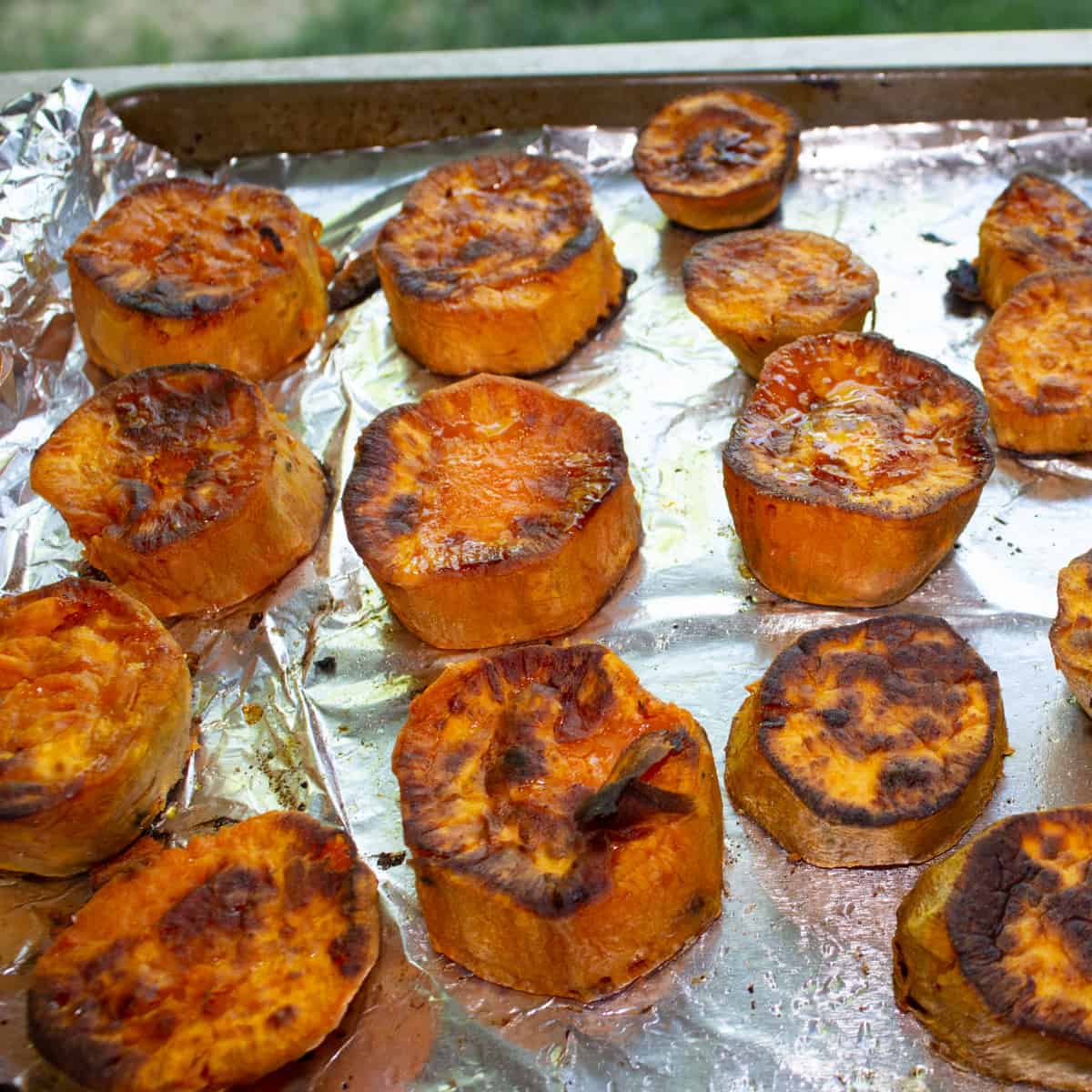 Jump to:
Why This Recipe Works
Super simple to make. This is one of our roast sweet potato recipes that is so easy to make. Roasted sweet potato slices, oil, salt. That's it.
Quick preparation time. Peel the sweet potatoes, slice them, brush with olive oil, sprinkle the salt. Ready for the oven in less than 15 minutes.
All natural ingredients. There are no preservatives or added sugars here, just naturally flavorful ingredients.
Sliced baked sweet potatoes are healthy. Roasted sweet potatoes are a healthy nutrient dense food. They are a natural anti-inflammatory, lots of anti oxidants, full of Vitamin A, C and fiber.
Fun to look at. Sweet potato medallions, or sweet potato rounds, are a deep rich orange color inside with a crispy dark brown crust on the outside. You can even add a little extra char by turning on the broiler for a minute at the end and making broiled sweet potatoes.
3 Ingredient Recipe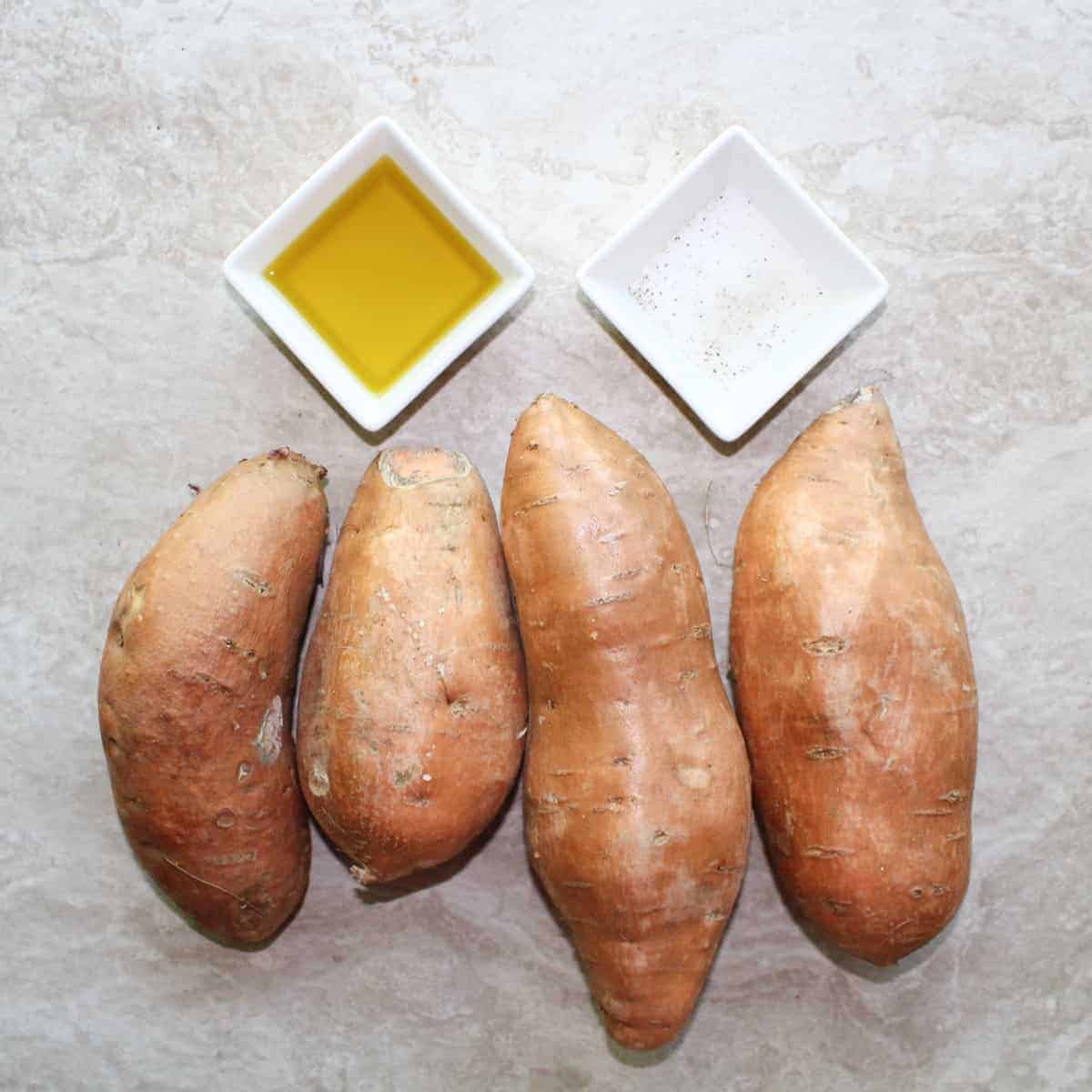 Sweet potatoes - just like many other recipes for roasted sweet potatoes, our recipe uses fresh medium sweet potatoes cut into thick slices. You can also use yams but do not use any canned ingredients.
Olive oil - brushed over the top, this is what helps the recipe for roasted sweet potatoes crisp up in the oven.
Salt and black pepper - to taste.
The Best Sweet Potato Rounds Step by Step
Step 1: Peel
Peel the sweet potatoes. If you choose to make this recipe leaving the skin on, make sure you wash them thoroughly.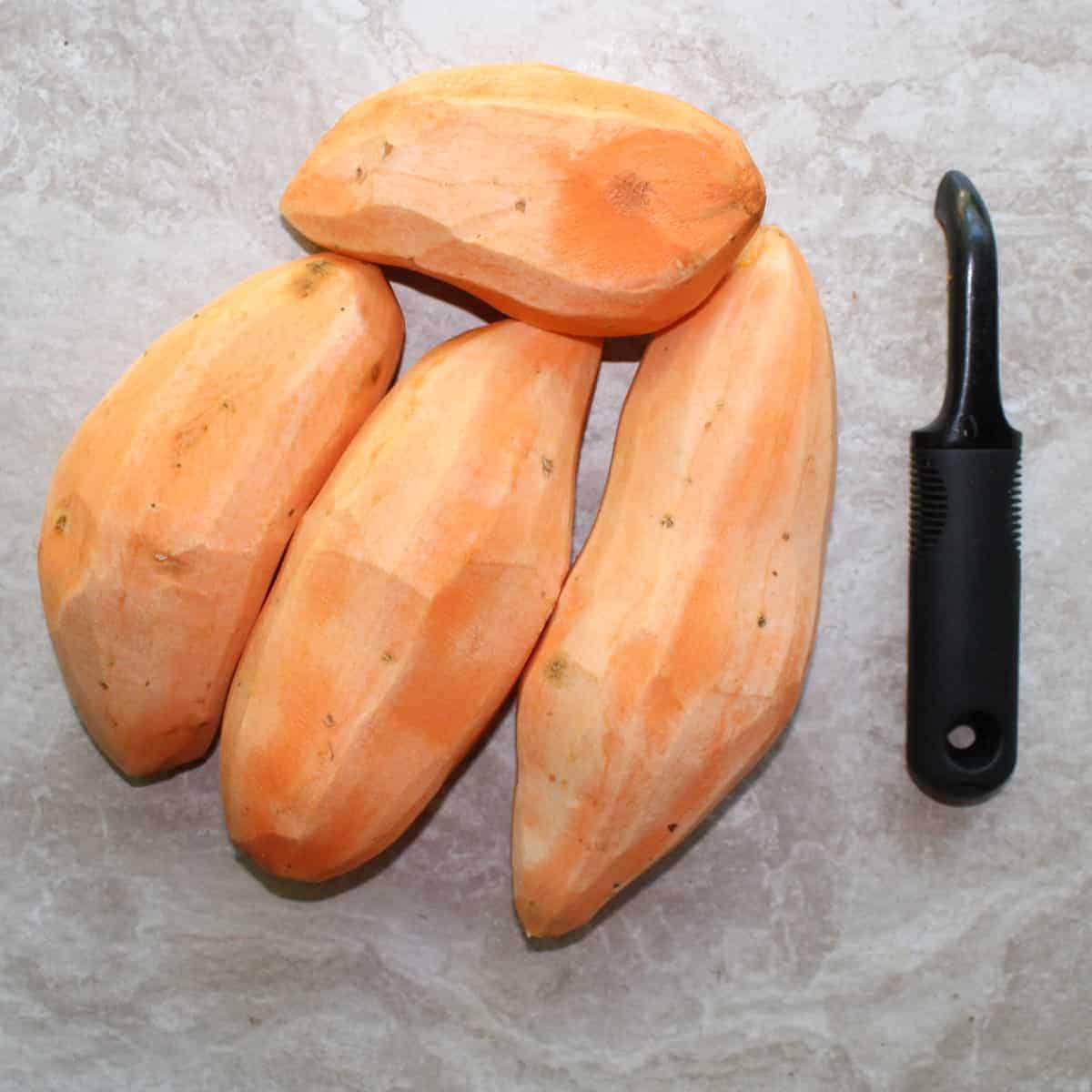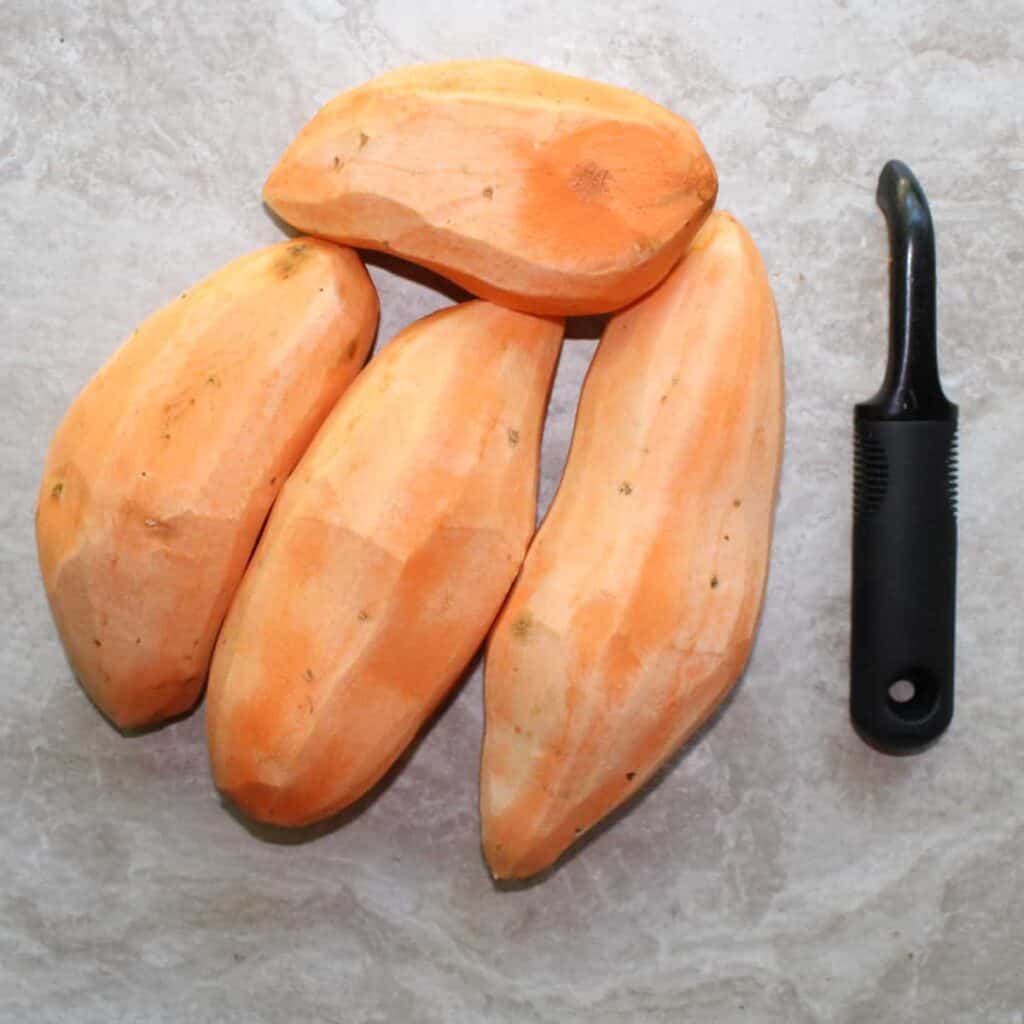 Step 2: Slice the sweet potato rounds thick
Slice the sweet potatoes into 1 inch thick slices. Yes, they are that thick. That is why my kids call them "sweet potato muffins." Because they are thick, the outside crisps up in the oven while the inside gets all mushy and fluffy, almost like a custard donut filling.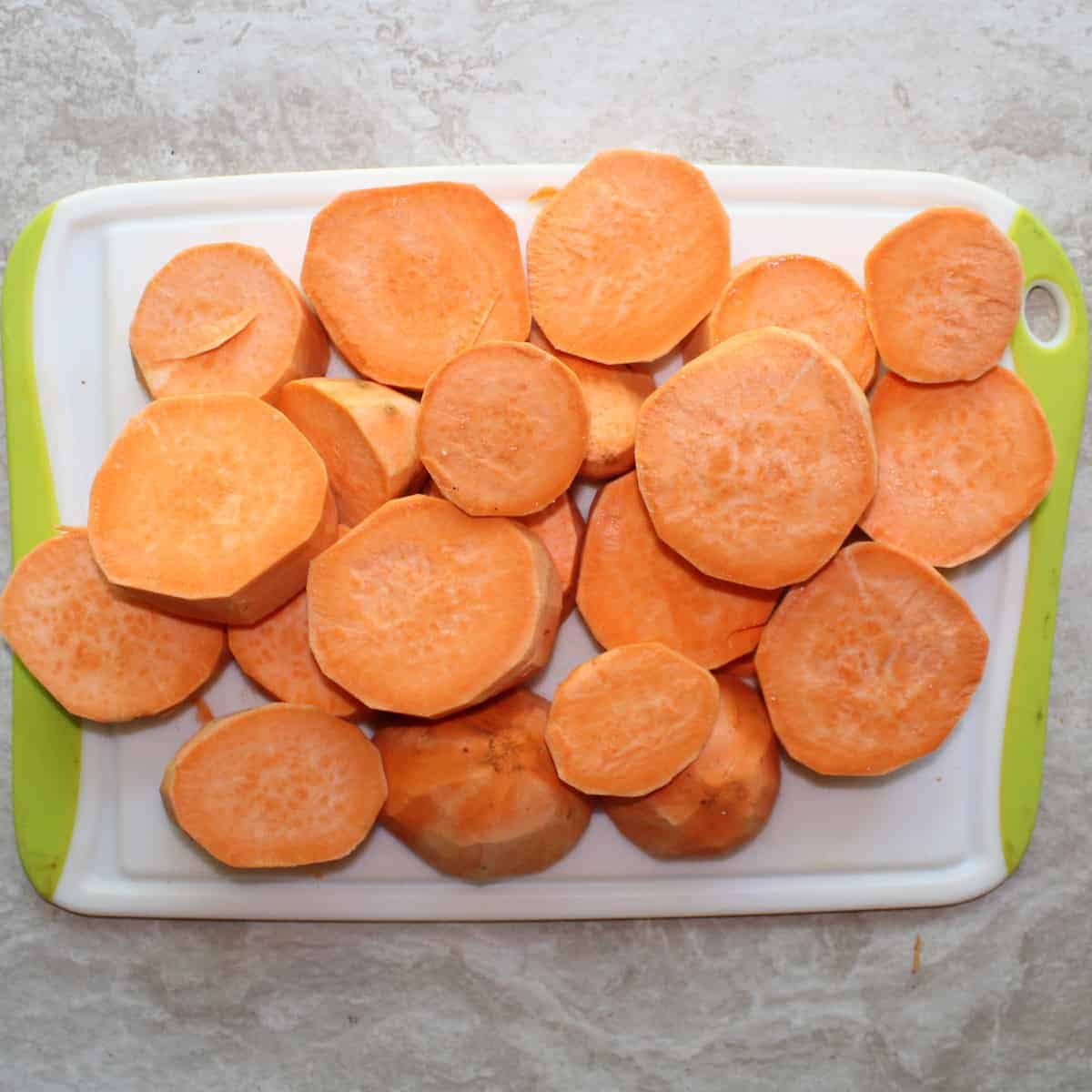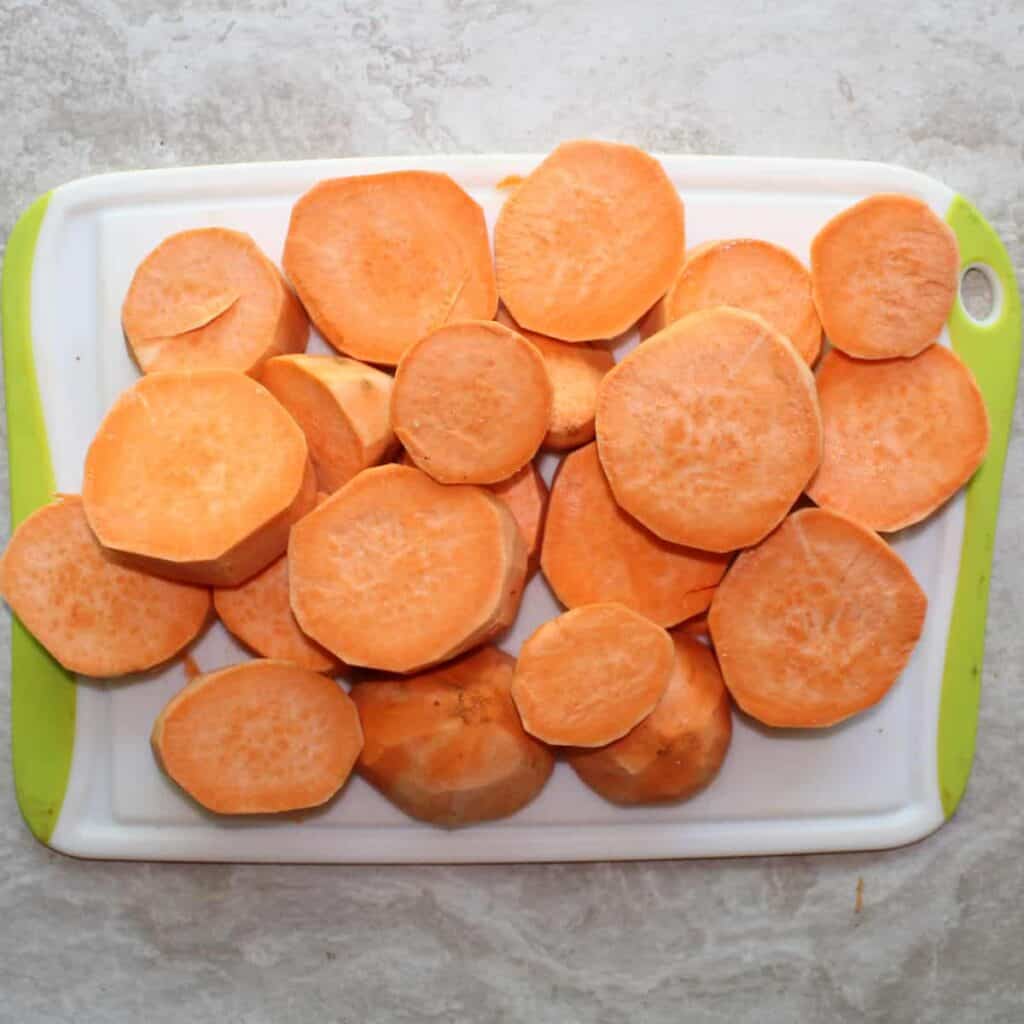 Step 3: Add olive oil and seasoning
Drizzle olive oil over the tops of the slices and sprinkle with salt and pepper. Rub it into each slice with your hand so that all of the surfaces get covered in oil, salt, and pepper. Place the sliced sweet potato on to a sheet pan covered with aluminum foil.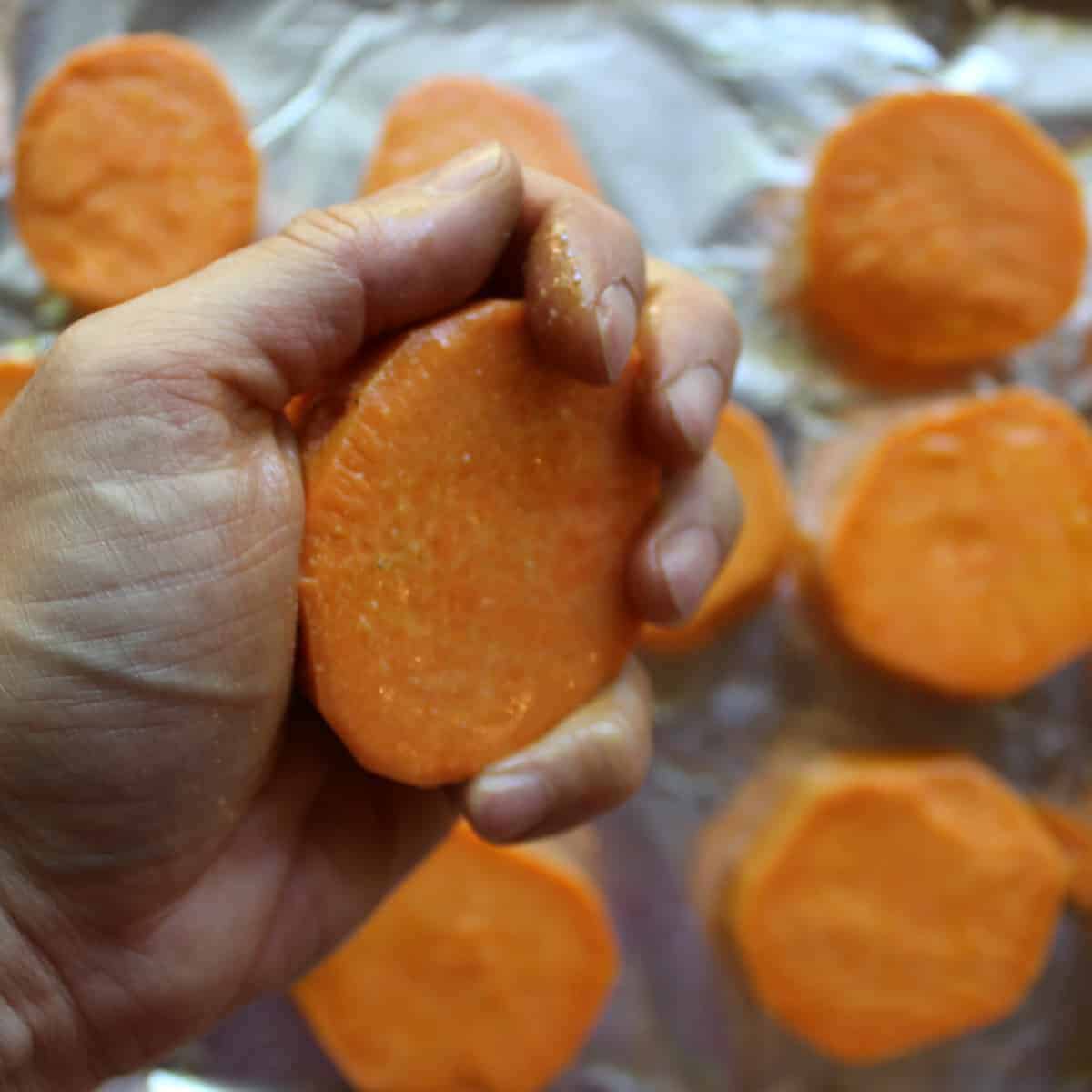 Step 4: Baking sliced sweet potatoes
Bake at 425ºF for 15 minutes cook time. Take them out of the oven and flip the slices over. Some of them might be soft already so be careful when flipping them over. Oooh, look at that.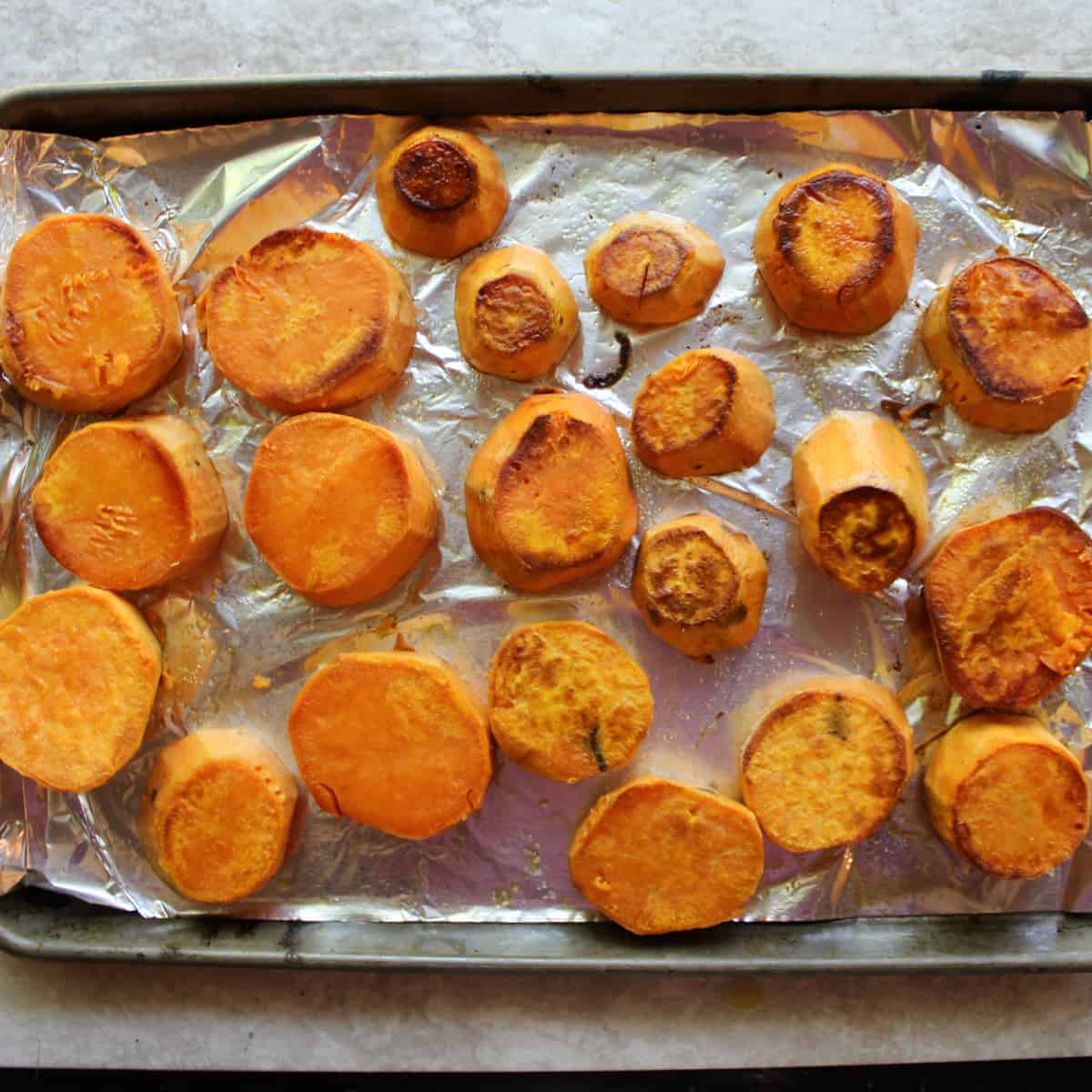 Step 5: Finish baking sweet potato slices
Put the sweet potato slices back in the oven and continue roasting sweet potato for 15 more minutes. Flip again. Finally, bake for another 15 minutes and take them out of the oven. While these are not broiled sweet potatoes, you can stick them under the broiler for 30 seconds to 1 minute at the end to give them that perfect char on top. Sweet potato medallions are done!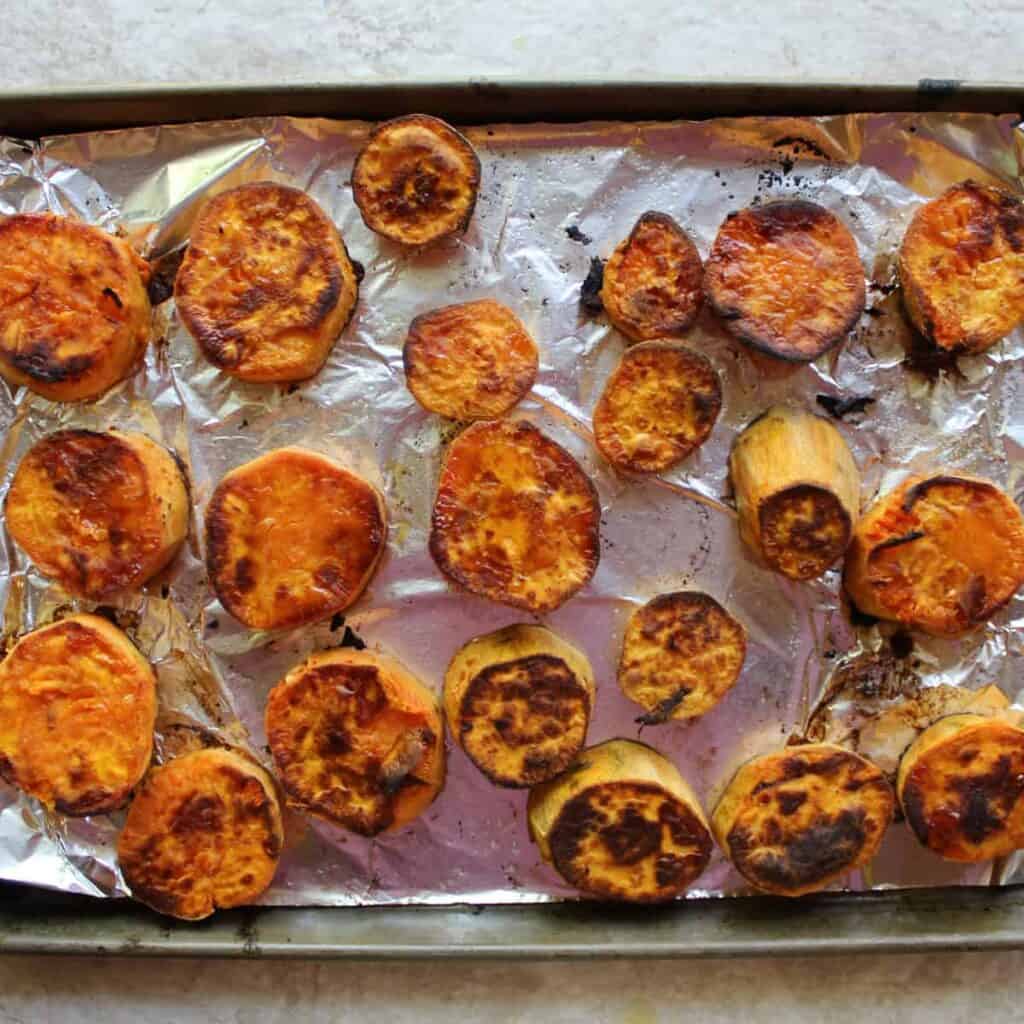 Recipe FAQ
What is a good topping for a sweet potato medallion?
There are so many great toppings to try: brown sugar or maple sugar, chili powder, sriracha, sour cream, butter, to name a few.
What is the healthiest way to cook baked sweet potatoes?
Sweet potato rounds is one of the healthiest ways to prepare roasted sweet potatoes. This recipe uses very little fat and no added sugar. The natural flavor of the roasted sweet potato with the salt doesn't need the addition of anything else to be amazingly delicious.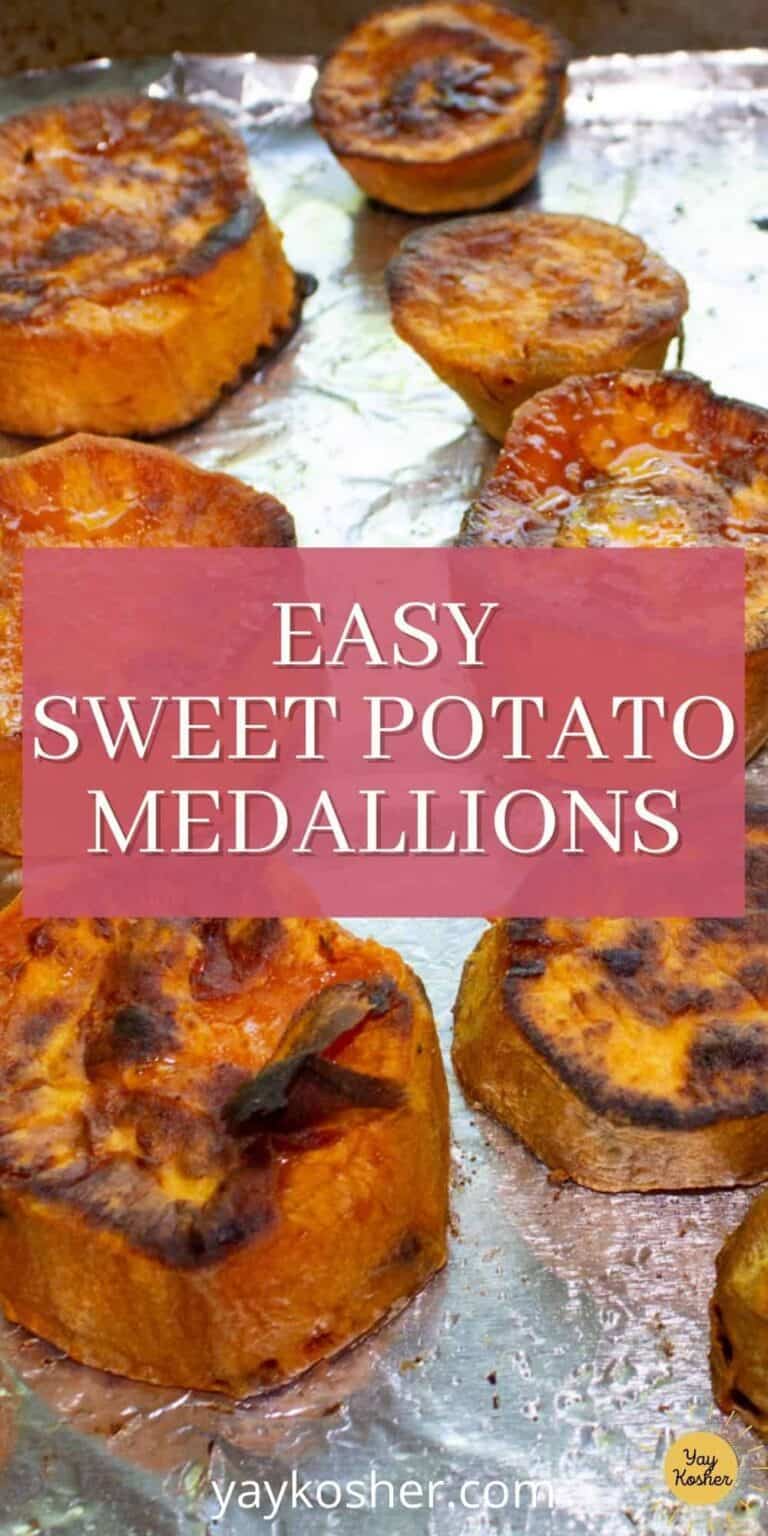 Tips and Suggestions
This is a recipe that does not use any extra seasonings or toppings, but you should not be afraid to try. Experiment by baking sliced sweet potatoes and topping with:
chili powder
garlic powder
brown sugar and cinnamon
balsamic vinegar
sriracha
havarti cheese (dairy)
butter (dairy)
sliced jalapeno pepper
hot and sweet mustard
maple syrup
butter pecan ice cream (dairy dessert)
More recipes like this one
Did you enjoy this recipe? Let us know by leaving a comment below.
📖 Recipe
Easy Sweet Potato Medallions
Fluffy and creamy on the inside, crispy on the outside.
Print
Pin
Ingredients
4

sweet potatoes

medium to large

¼

cup

olive oil

you can also use coconut oil

salt and pepper

to taste
Instructions
Slice the sweet potatoes into 1 inch slices. Cut off any pointed ends so that the slices will sit flat.

Cover the slices of sweet potato with olive oil and salt and pepper. Rub the oil, salt, and pepper over all surfaces of the sweet potato slices.

Bake for 15 minutes at 425ºF on a baking sheet lined with aluminum foil. Flip the slices over, bake for another 15 minutes. Flip the slices one final time, bake for 15 minutes and remove from the oven.
Notes
Tips and Suggestions
This is a recipe that does not use any extra seasonings or toppings, but you should not be afraid to try. Experiment by topping with:
chili powder
garlic powder
brown sugar and cinnamon
balsamic vinegar
sriracha
havarti cheese (dairy)
butter (dairy)
sliced jalapeno pepper
hot and sweet mustard
maple syrup
butter pecan ice cream (dairy dessert)
Nutrition
Calories:
105
kcal
|
Carbohydrates:
15
g
|
Protein:
1
g
|
Fat:
5
g
|
Saturated Fat:
1
g
|
Polyunsaturated Fat:
1
g
|
Monounsaturated Fat:
3
g
|
Sodium:
42
mg
|
Potassium:
254
mg
|
Fiber:
2
g
|
Sugar:
3
g
|
Vitamin A:
10688
IU
|
Vitamin C:
2
mg
|
Calcium:
23
mg
|
Iron:
1
mg
Recipe Categories