This kosher recipe for Mediterranean Tomato Cucumber Salad (also called Israeli Salad) is the perfect compliment to almost any main dish. Use fresh cucumbers and tomatoes to make a tasty side for dishes like Chicken Marsala or our No-Boil Baked Ziti. As with most salads, the fresher the ingredients, the better the salad. This recipe is kosher for Passover, pareve, vegan, and gluten free. Read on to learn how to make the best Mediterranean Cucumber Tomato Salad recipe.
Jump to:
Mediterranean Tomato Cucumber Salad is the national salad of Israel
If you have ever been to Israel (or if you live in Israel) then you are no stranger to pita and Israeli salad. It is served in every Middle Eastern Israeli restaurant from high class dining to the shawarma stand on the street corner. It seems like you can't order a plain hamburger in Israel without a scoop of that heavenly Mediterranean Salad made of tomato and cucumber showing up somewhere on your plate. Israelis love to serve this salad with breakfast, lunches, or dinners when dining at home.
Why this recipe works
Quick preparation time. This recipe involves cutting your veggies and tossing them in the dressing. You should be able to do this in under 10 minutes.
Easy to make. This salad is super simple because it uses ingredients that most of us are familiar with. No cooking time also makes it really hard to get this one wrong.
Easily sourced ingredients. Most grocery stores in the United States, Canada, and Israel will have cucumbers, tomatoes, and lemons year round. That means whether it is Rosh Hashanah, Sukkot, Hanukkah, or Passover, you can enjoy this salad.
Ingredients used in Mediterranean Cucumber Tomato Salad
There are a lot of different styles of Israeli Tomato Cucumber Salad, this recipe is just for the basic salad. Here is what you need to make a quick and easy Israeli salad: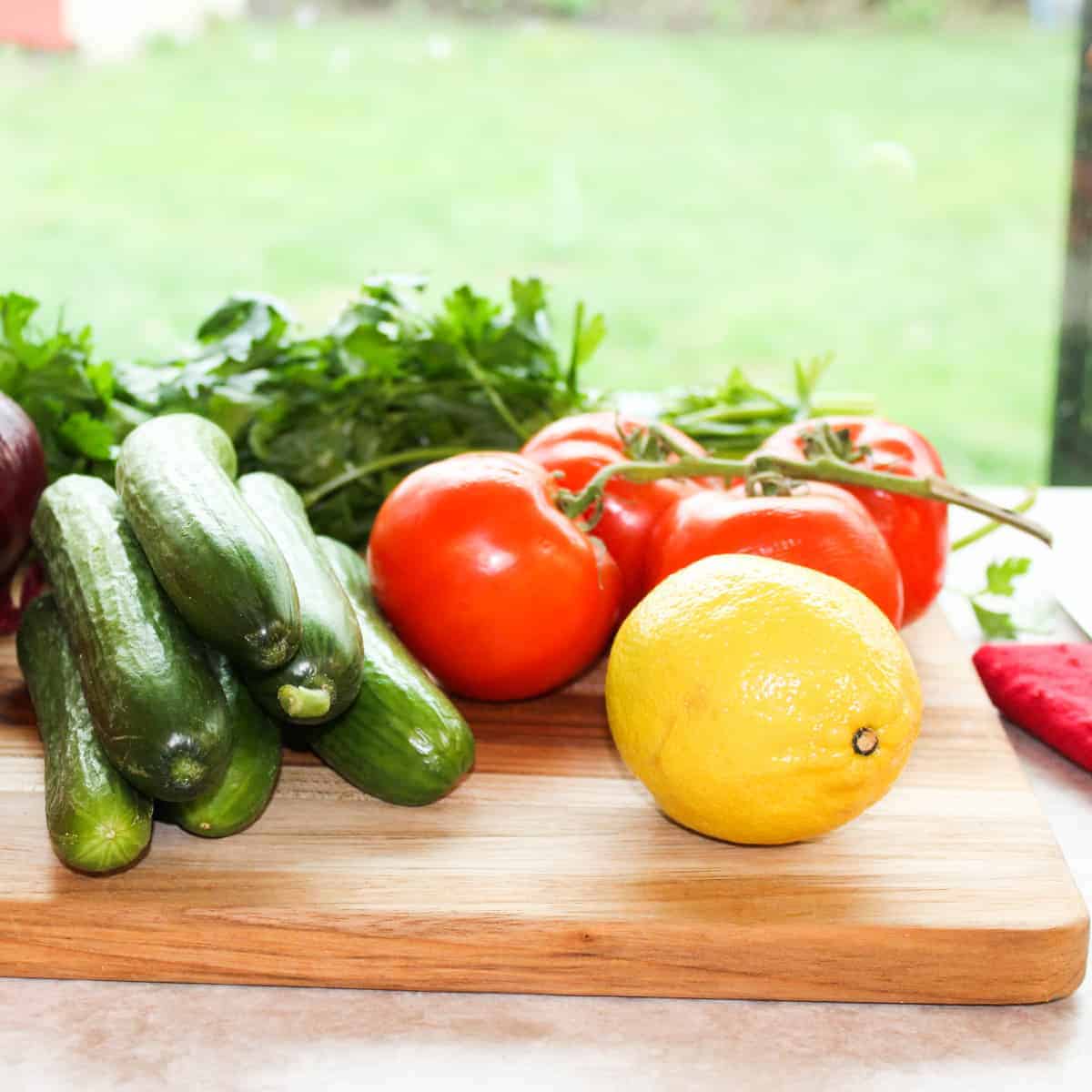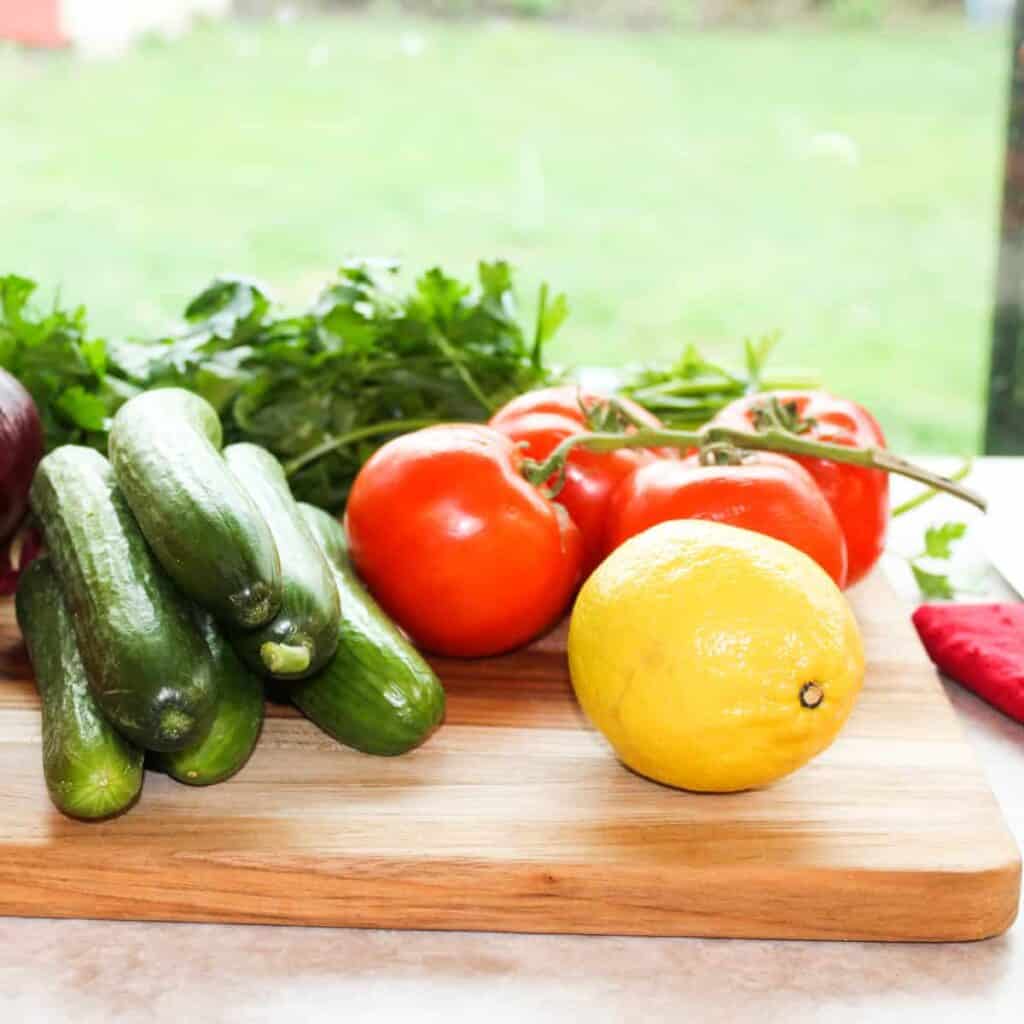 Fresh tomatoes - roma or vine ripened
Cucumbers - Persian or English
Extra virgin olive oil - as a base for the dressing
Lemon juice - the flavoring for the dressing
Salt - for flavor
Fresh ground black pepper - to taste
Red onion - just like in our recipe for Salata Orientala (Romanian Potato Salad), adds tons of flavor and just a little bite
Instructions on how to make Mediterranean Tomato Cucumber Salad step by step
Step 1 - Cut and salt the tomatoes.
Cut the tomatoes into cubes about ⅓ inch thick. If you are using cherry tomatoes, slice them in half and use 2 cups. Salt the tomatoes and let them sit for about 5 minutes. The salt draws a lot of liquid out of the tomatoes and you want to dump that out before mixing them into the other ingredients.
Step 2 - Cut the cucumbers.
Cut the cucumbers into cubes about ⅓ inch thick.
Step 3 - Mix in the parsley and onions into the Mediterranean Salad
Mix the parsley and onions into the cucumbers.
Step 4 - Stir together the ingredients of the Israeli Cucumber Salad
In a large bowl, stir in the tomatoes, orange peppers, lemon juice, and olive oil.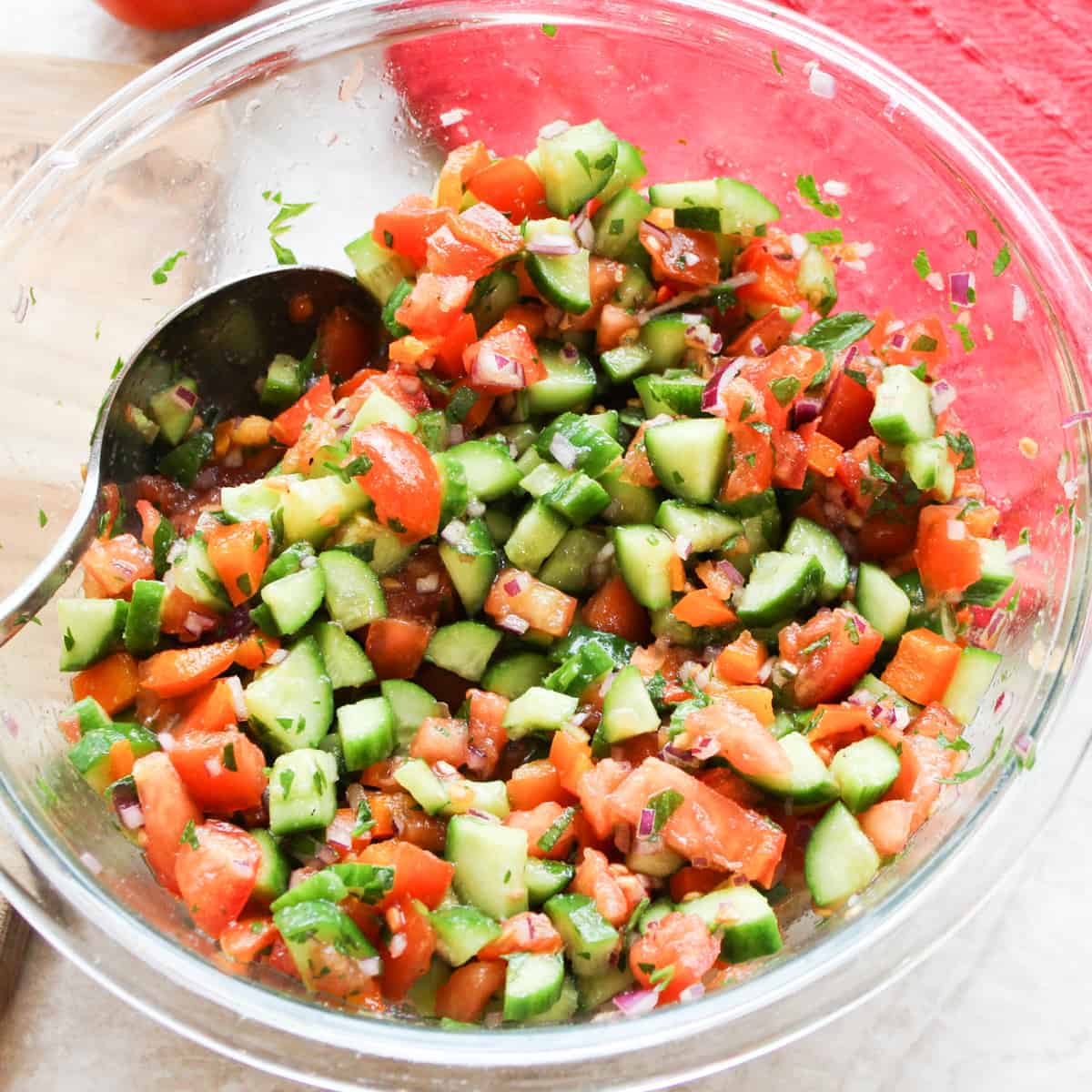 Top recipe tips
Always use fresh ingredients for an Israeli Mediterranean Salad. A lot of the appeal of this salad is the vibrant flavor of fresh veggies when eaten together. Canned tomatoes just don't have the same flavor.
If you don't like the tase of olive oil you can substitute avocado oil which does not have any taste to it.
Recipe FAQ
Why is it called Israeli salad?
Also called salat yerikot yisraeli, or Arab salad, Israeli salad refers to a dish that has lots of different variations, but generally includes cucumbers, tomatoes, and onions. This combination of chopped veggies has been touted by some as the "national dish of Israel" since you can find it everywhere in Israel.
Do I need to peel the cucumbers?
If you are using the Persian or English cucumbers, you will not want to peel them. The peel on these cucumbers is thinner and does not have a distinct flavor that would need to be discarded. If you are using the larger American cucumber you should peel them because the peel is waxy and has a bitter taste that is not good for this salad. Obviously, peeling the cucumbers will add some time to the preparation of the salad.
How can I store Israeli salad?
Just put the leftover salad into an airtight container and stick it into the refrigerator. It should keep 3-5 days. When you serve the Israeli salad after it has been sitting for a little bit, the tomatoes release a lot of water and you should pour some of it out before serving.
Can I freeze Israeli salad?
No. Tomatoes and cucumbers do not freeze well and will get mushy when they thaw. They will not taste fresh and freshness is really the whole appeal of this salad.
Variations and Serving Suggestions For Mediterranean Cucumber and Tomato Salad
Israeli Salad is low carb and full of flavor. This is the kind of salad that has something in it that everybody likes. In case you are looking for something different, here are some of our favorite additions:
avocado
fresh herbs like mint or cilantro instead of parsley
feta cheese
chickpeas
chopped jalapeno
red bell pepper
serve alongside grilled chicken or schawarma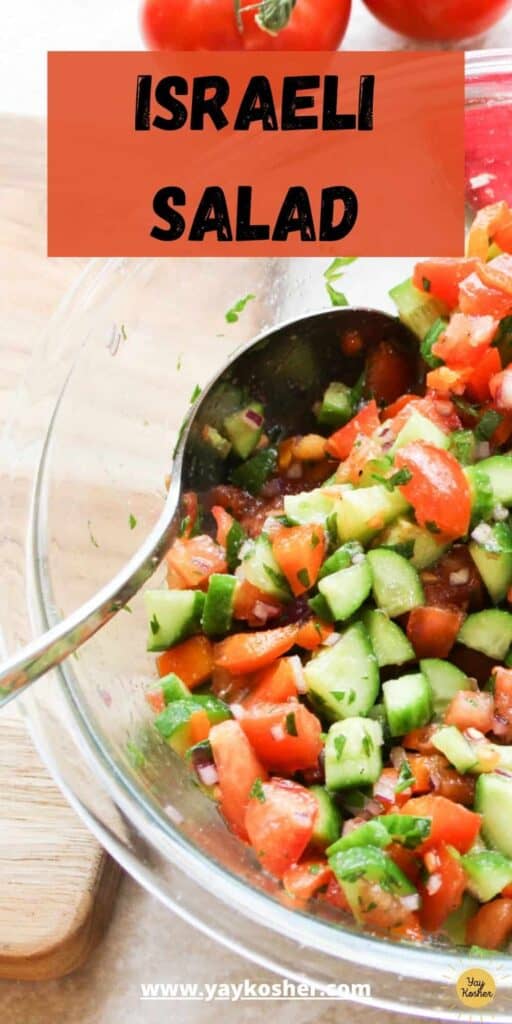 Health Benefits of Mediterranean Salad with Cucumbers
According to Healthline.com, cucumbers are healthy because they are:
Low in calories
High in antioxidants
Full of Vitamin K, Vitamin C, Magnesium, and Potassium
📖 Recipe
Mediterranean Tomato Cucumber Salad
This kosher recipe for Mediterranean Tomato Cucumber Salad (also called Israeli Salad) is the perfect compliment to almost any main dish.
Print
Pin
Equipment
large mixing bowl

Sharp Knife
Ingredients
4

tomato

medium sized or 2 cups cherry tomatoes

6

persian cucumber

2 English, medium sized

¼

onion

finely diced

1

bell pepper

any color

2

tablespoon

parsley

fresh, minced

¼

cup

lemon juice

fresh, half a lemon, squeezed

2

tablespoon

extra virgin olive oil

salt

to taste

black pepper

to taste
Instructions
Chop tomatoes, salt, drain the excess liquid.

Chop cucumbers and bell pepper into very small pieces. Finely dice onion and mince parsley. Combine with tomatoes in a mixing bowl.

Drizzle lemon juice and olive oil over salad and toss to coat.
Notes
Variations and Serving Suggestions
Israeli salad is low carb and full of flavor. This is the kind of salad that has something in it that everybody likes. In case you are looking for something different, here are some of our favorite additions:
avocado
mint instead of parsley
feta
chickpeas
chopped jalapeno
Nutrition
Calories:
113
kcal
|
Carbohydrates:
11
g
|
Protein:
2
g
|
Fat:
7
g
|
Saturated Fat:
1
g
|
Polyunsaturated Fat:
1
g
|
Monounsaturated Fat:
5
g
|
Sodium:
11
mg
|
Potassium:
515
mg
|
Fiber:
3
g
|
Sugar:
7
g
|
Vitamin A:
2214
IU
|
Vitamin C:
66
mg
|
Calcium:
33
mg
|
Iron:
1
mg
Recipe Categories