This kosher Easy BBQ Chicken Salad recipe is one of my favorite salads. It's my own copycat version of a salad I love at a local sandwich shop in town. I make this salad often as a quick, easy, and light Shabbat or Yom Tov lunch and it is basically impossible to stop eating. This recipe is kosher, non-dairy, and gluten free. Keep reading to learn how to make the best Easy BBQ Chicken Salad right at home.
Jump to:
Why this recipe works
Healthy and filling. A lot of salad recipes sacrifice being healthy for being filling or vice versa. This is one of those salads that lets you have the best of both worlds.
Simple to make. Toss the ingredients into a bowl and dress just before eating. Super simple.
Scales well. It is easy to make a lot of this BBQ Chicken Salad for any number of guests. You can alter the amount of ingredients just before putting the salad together to accommodate your crowd no matter the size.
BBQ Chicken Salad is versatile. It goes well as a starter course but is perfect as the main event.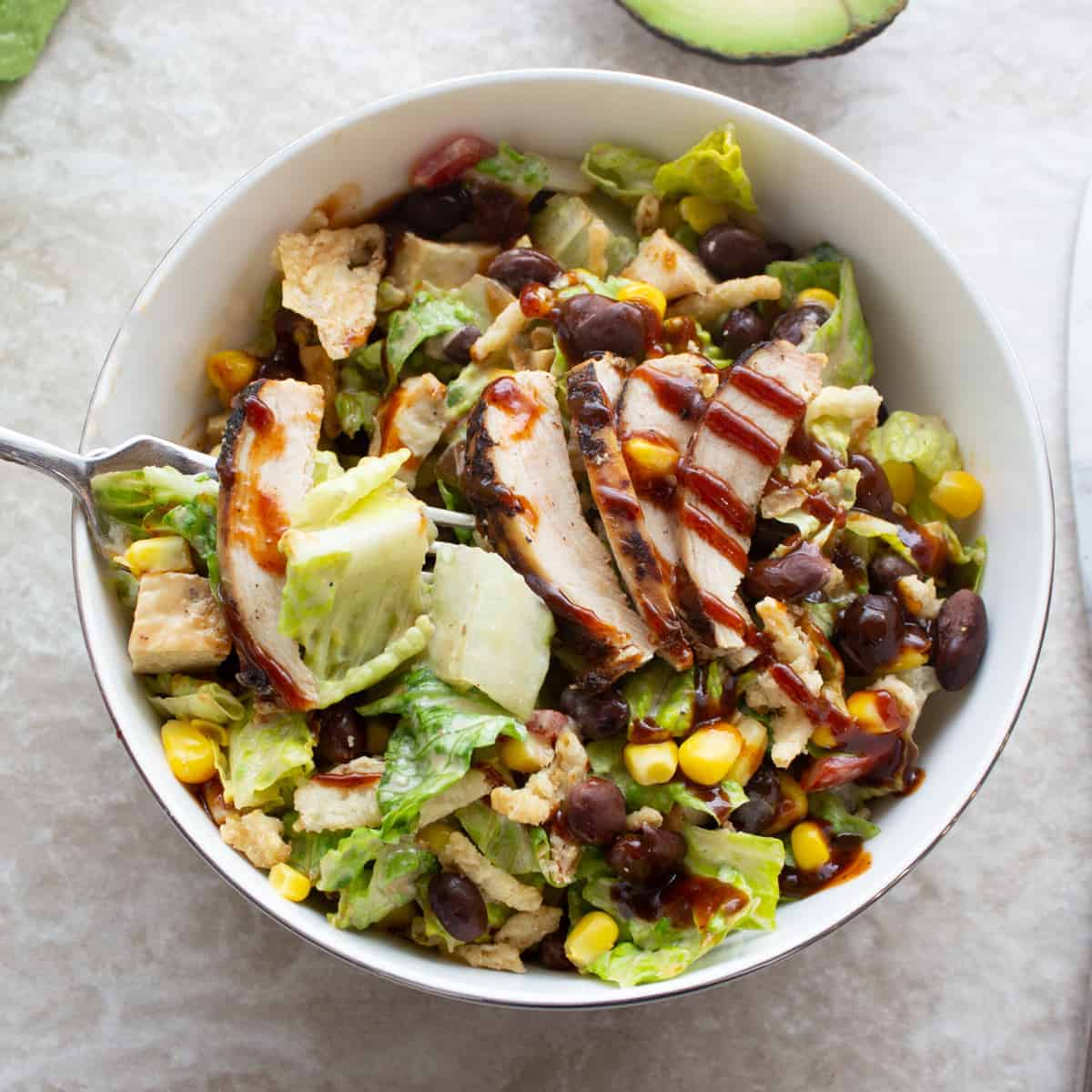 BBQ Chicken Salad is super tasty!
This bbq chicken salad recipe has so many delicious ingredients that there's really nothing not to love: grilled chicken, avocado, tomatoes, cucumbers, black beans, corn, crunchy fried onions all on a bed of lettuce and dressed with a creamy, tangy, garlicky, bbq dressing. But the very best part of this salad is it's easy to leave things out or change ingredients according to your taste.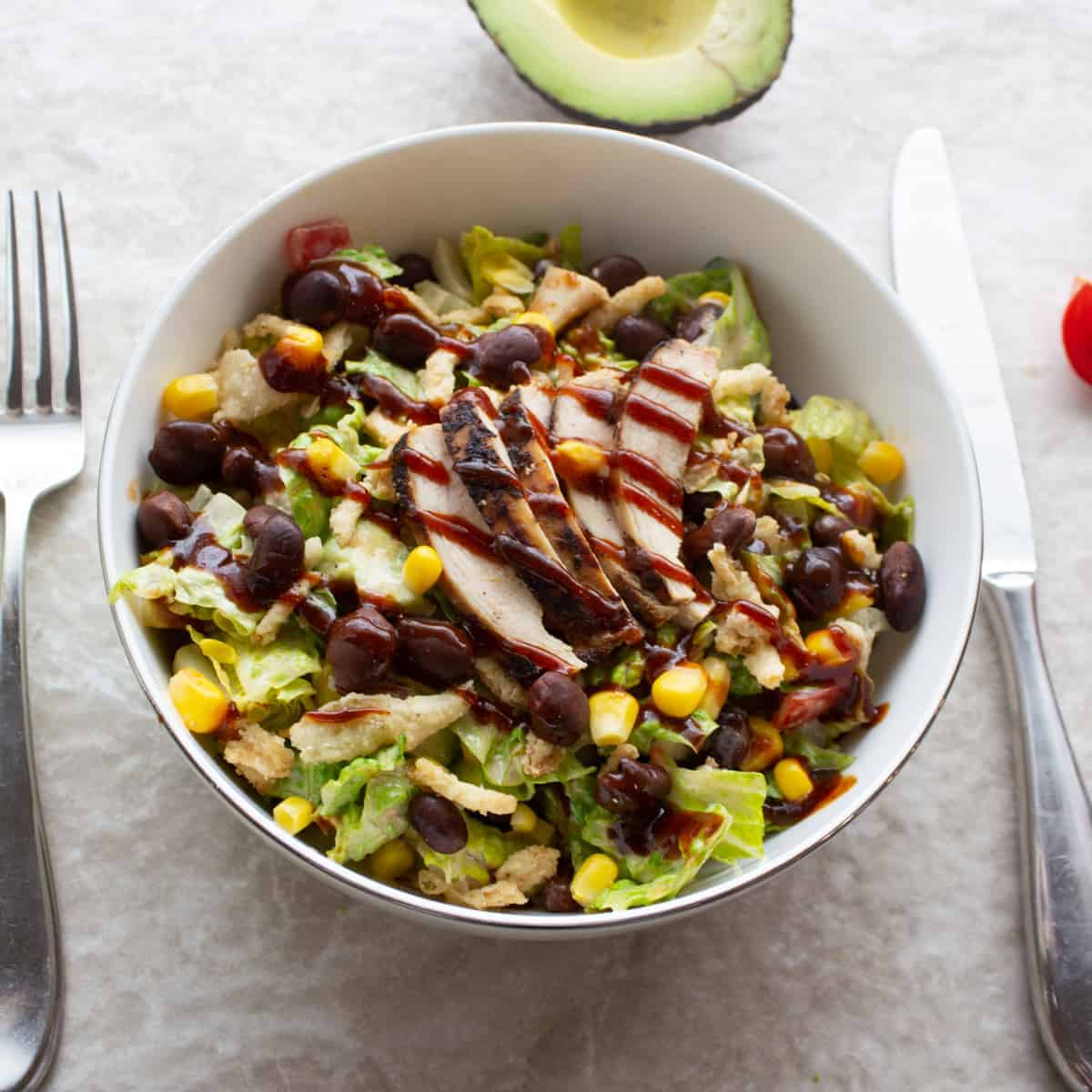 How to make The Best BBQ Chicken Salad step by step.
Grilled Chicken: Season both sides a few boneless skinless chicken breasts and cook in a hot cast iron skillet for 6 minutes on each side. The trick to moist and juicy chicken breast is to leave it alone! Only flip it once and do not press down on it while cooking which presses all the juices out. For the first 6 minutes I like to place a piece of foil or a lid loosely over the pan to ensure the chicken is cooked all the way though. Then flip and allow chicken to cook on the other side-- uncovered. Allow chicken to rest while preparing the salad to the juices can reabsorb keeping your chicken as possible.
Lettuce: wash and check for bugs and chop it up! Or buy pre-washed and chopped lettuce. So easy.
Avocado: It must be m California roots coming through but to me, everything is better with avocado! Cut in half, remove pit and peel, cube, and dump into salad
Tomatoes: I like to use cherry/grape tomatoes. Wash, halve, dump into salad.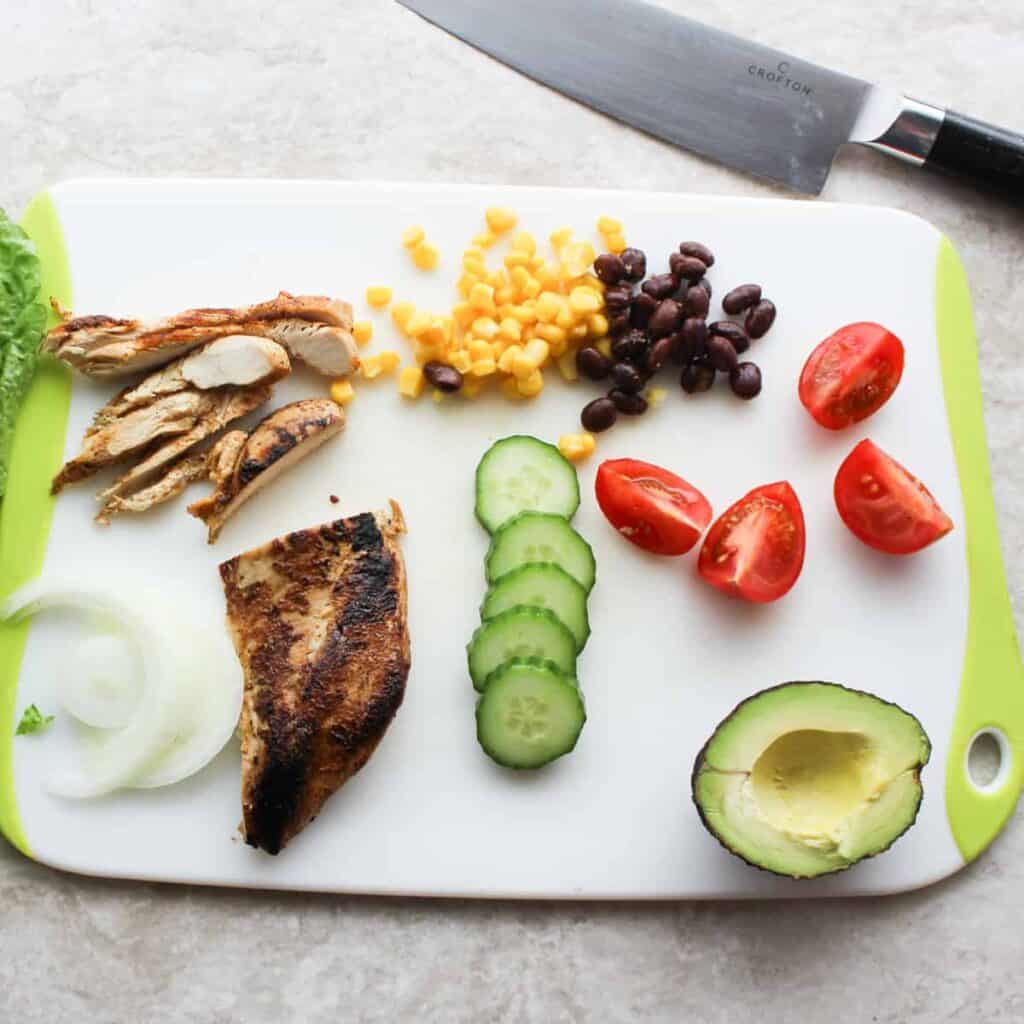 Cucumber: I like English hothouse cucumbers, the kind that comes wrapped in plastic. Or little persian cucumber. They taste way less bitter than regular kind and there is no need to peel them. If you do use the regular kind of cucumbers definitely peel them for best taste. Wash, chop, dump into salad.
Onion: I used to not like raw onion because it was always too spicy, and truth be told, sometimes it still is depending on the onion. But a good mild onion or red onion really does add such delicious flavor. I strongly suggest that you do not skip it in this salad. Thinly slice into half moons or smaller. A little goes a long way.
Corn and black beans: Open cans, rinse, dump into salad.
Crispy fried onions: Anything crunchy works but I really like the taste of these. I buy a big bag in bulk and sprinkle them on as the mood strikes me. You can also use croutons, crushed tortilla chips, or whatever crunchy topping you prefer. Don't add them until you are ready to eat or they will get soggy.
Garlic BBQ dressing: This pareve dressing recipe is as simple as mixing equal parts mayonnaise and barbecue sauce, garlic powder, and hot water. Stir and pour over salad.
Recipe FAQ
Can I use leftover or rotisserie chicken instead of cooking boneless skinless chicken breasts?
Definitely! This is a salad recipe that needs cooked chicken and does not care where it comes from. Leftover rotisserie or fried chicken are also amazing to use in this recipe. Use whatever tastes best to you.
Can I marinate raw chicken?
Usually you are going to marinate raw ingredients although you can lightly sear the chicken before it marinates as well. For this recipe, marinate chicken in your favorite marinade overnight and cook as directed: 6 minutes on each side in a hot skillet.
How do I keep grilled chicken breast moist?
The trick to moist and juicy chicken breast is to leave it alone! Only flip it once and do not press down on it while cooking which presses all the juices out.
How far in advance can I make this salad?
Once this salad is dressed it does get soggy. It will not last beyond the meal but the chicken can be grilled up to a day in advance and the dressing can be made 2-3 days in advance and the veggies can be chopped a few hours in advance. Assemble and dress right before serving. Ben has a tendency to pick at the leftover salad a few hours later but I find it get too soggy for my taste. So it's up to you how long it will last, but definitely not more than a few hours.
Serving suggestions
More recipes like this one:
📖 Recipe
BBQ Chicken Salad
Delicious, fresh, and healthy. Your new favorite salad.
Print
Pin
Ingredients
2

chicken breasts

boneless, skinless

seasoned salt

to taste

1

tablespoon

olive oil

2

heads

lettuce

1

avocado

1

container

grape tomatoes

halved

½

English cucumber

cubed

¼

onion

thinly sliced and cut into moons

1

can

corn

rinsed and drained

1

can

black beans

rinsed and drained

¼

cup

mayonnaise

¼

cup

bbq sauce

1

teaspoon

garlic powder

1

tablespoon

hot water

1

container

crispy fried onions

to sprinkle
Instructions
To make grilled chicken:
Heat olive oil in a skillet on medium-high. While pan heats sprinkle seasoned salt on both sides of chicken.

Carefully put chicken in skillet and allow to cook undisturbed for 6 minutes. Cover loosely with a piece of foil or a lid.

Flip chicken and cook uncovered for remaining 6 minutes then remove from heat and set aside.

Once cooled cut chicken into slices or cubes.
To make salad:
In a very large bowl combine chopped lettuce, tomatoes, cucumbers, avocadoes, onions, corn, and beans.

Just before serving add dressing and toss.

Sprinkle with crispy fried onions as a topping.
To make dressing:
In a small bowl whisk together mayonnaise and bbq sauce

Add hot water to bring to runny consistency.
Notes
Chicken can be made up to 1 day in advance
Dressing can be made up to 2-3 days in advance
Salad vegetables can be prepared up to a few hours in advance
Nutrition
Calories:
436
kcal
|
Carbohydrates:
39
g
|
Protein:
19
g
|
Fat:
24
g
|
Saturated Fat:
7
g
|
Trans Fat:
1
g
|
Cholesterol:
39
mg
|
Sodium:
397
mg
|
Potassium:
870
mg
|
Fiber:
8
g
|
Sugar:
9
g
|
Vitamin A:
1146
IU
|
Vitamin C:
14
mg
|
Calcium:
51
mg
|
Iron:
2
mg
Recipe Categories