This recipe for Slow Cooker London Broil With Gravy is an easy way to make a super tasty beef dinner without much fuss. The tender cut of beef sits in the slow cooker and breaks down into a flavorful one pot meal. If you loved our Slow Cooker BBQ Beef Recipe then you know you are in for a treat with this one too.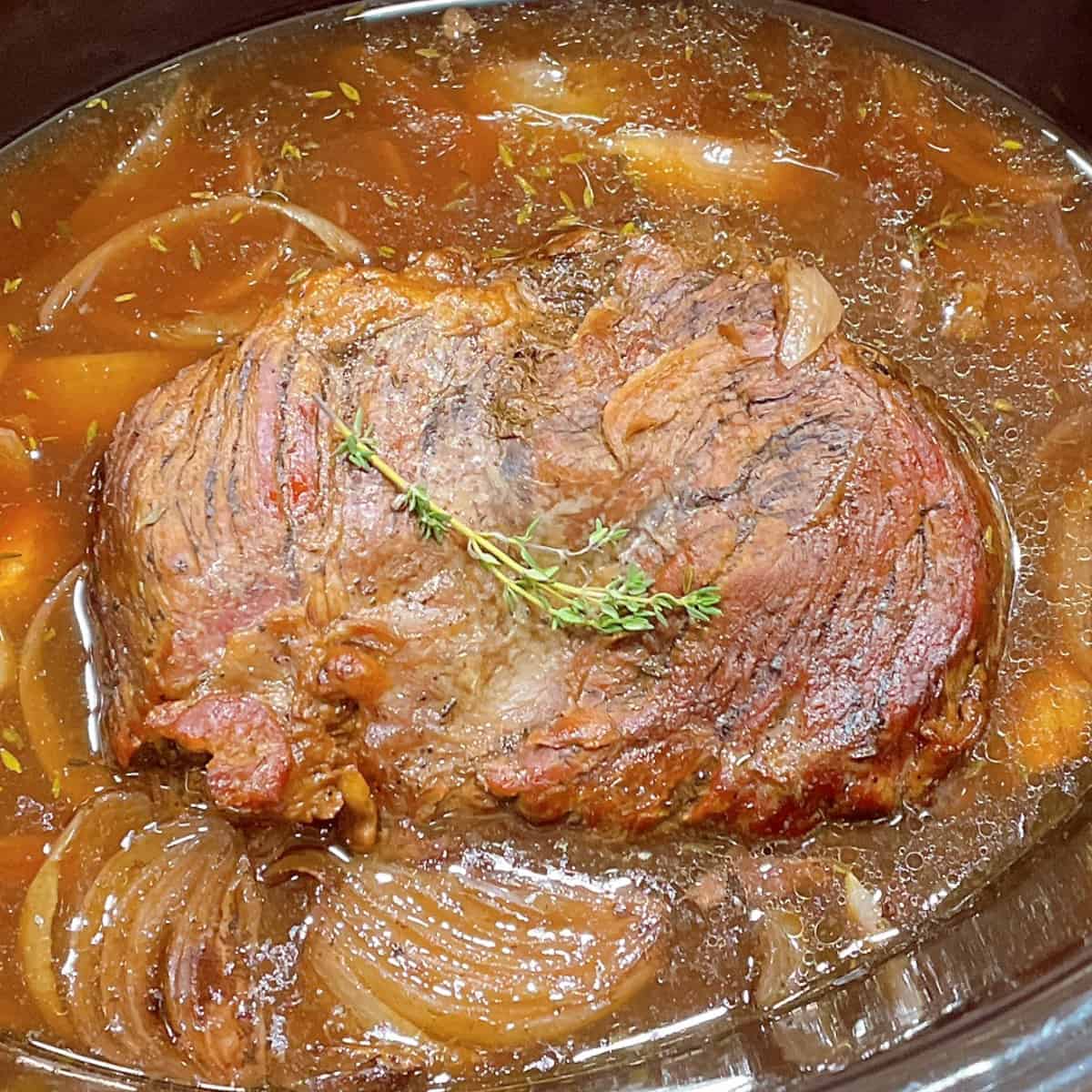 Jump to:
Perfect recipe to make in a CrockPot for Shabbat or Yom Tov. This Easy London Broil Slow Cooker recipe is kosher, gluten free, and non-dairy.
Ingredients
2 ½ pounds London broil roast - London broil usually refers to the preparation used for the meat and not to the roast itself. That being said, most kosher meat shops will sell a cut of meat called London broil roast. This is a relatively inexpensive cut of meat that goes a long way.
Worcestershire sauce - since this is a meat recipe, you will need to make sure that you use the sauce that does not have fish in it.
Onions - provides tons of flavor to the meat as it cooks the London broil in the slow cooker.
Garlic - adds to the flavor profile.
Wine - red meat roasts like this love red wine during the cooking process. Adds to the depth of flavor and provides some of the moisture to keep the meat juicy and flavorful. Creates a wonderful gravy to serve with the meat.
Chicken broth - keeps the meat moist and adds tons of flavor. You can substitute beef broth or mushroom soup if you would like.
Thyme, salt, black pepper - flavors the meat and gravy.
Why this is the Best Slow Cooker London Broil recipe
Super Easy to make. This reciepe is made without marinating or lenghthy prep. Sear the meat and toss the ingredients into the slow cooker. A one pot recipe for London Broil. These are some of the easiest recipes to make because they do not involve a lot of complicated steps.
Quick to prepare. Searing the meat, cutting the onions and garlic, and preparing the gravy can all be done in under 10 minutes. Put the London Broil in a slow cooker or Crock Pot and let it do the work.
Great for any time of year. When the weather is warmer, we love to us our London Broil Marinade recipe and grill London Broil outside. During the colder months, it can be a pain to do any kind of outdoor cooking. Slow cookers like a Crock Pot or Instant Pot make recipes like this a snap any time of the year. Plus, your house will smell amazing as the meat cooks in its juices and becomes fork tender.
Easy to store. You can serve the tender London Broil right from the Crock Pot and then just put the lid on and store it in the refrigerator for up to 7 days. If you want, you can even make this recipe in advance and freeze it for up to 6 months.
How to cook London broil in a Crock Pot
There are a lot of ways to cook London broil and this recipe is one of our favorites because it is fool proof! Follow these easy instructions and learn how to make a London broil:
Step 1 - Sear the meat
Sprinkle salt and pepper over all surfaces of your London broil roast. Over a medium/high flame sear all sides of the meat for about 2 minutes on each side. You are just looking for a golden brown crust and not to cook the meat all the way through.

Step 2 - Put all of the ingredients into a slow cooker
Cut the onions into 8-10 pieces each and toss them into the bottom of the slow cooker. Place the garlic cloves in whole and then place the seared London Broil roast on top.
Step 3 - Make the sauce
In a separate bowl, whisk together the wine, one cup chicken broth or one cup beef broth, Worcestershire sauce, and thyme sprigs. (If you have some of our Shabbat Chicken Soup, that is perfect to use for the broth in this recipe).
Pour over the meat in the slow cooker and set to low for 8 hours. If you are making this for Shabbat or Yom Tov lunch, the slow cooker can stay on warm until ready to serve. Take the meat out to rest for 15 minutes before serving. The roast should be fall apart tender.
London Broil in a Dutch Oven
You can use a Dutch oven to make slow cooker recipes like this one. Just heat the Dutch oven over a high flame and sear the meat before adding liquids. After the meat is seared, turn off the flame and add the other ingredients, cover, and bake in a conventional oven for 3 hours at 300ºF. If the meat is not done, cook covered for another hour.
Recipe FAQ
What is a London Broil?
London Broil is a way of preparing a meat recipe and does not refer to the cut of meat. That being said, most kosher markets will sell cuts of meat called "London Broil." Those cuts can also be called flank or top round. Top round is not a kosher cut of beef so you are probably being sold a flank steak.
Why is London Boil tough?
A lot of London Broil recipes can come out tough if they are not cooked correctly. This means that you have to know how to make a London broil for it to be tender. The cuts sold as London Broil are generally leaner cuts of beef without a lot of intramuscular fat and can dry out if they are overcooked. When you slow cook this London broil recipe low and slow with plenty of gravy, it stays moist and juicy.
Can you slow cook London broil in the oven?
Yes, and you can still keep this a one pot recipe. Put all of the ingredients into a 9x13 baking dish and cover with aluminum foil. Heat in the oven for 4 hours at 375ºF. If the meat is still tough, cover and heat for another 20 minutes.
Can I use a London broil for beef stew?
Yes. Just follow this recipe and it will produce a very basic beef stew. Add onions, carrots, potatoes, and peas and you have London broil beef stew.
How long do I cook London broil in a slow cooker?
This is going to cook for a long time as the flavors all combine together. 8 hours on low should do the trick.
Serving suggestions
CrockPot London broil with vegetables. Serve the slow cooker London broil with potatoes and carrots.
Spice it up! Add ½ teaspoon of cayenne pepper to the sauce before you pour it over the seared meat.
Shredded London Broil Sandwiches. Remove the London Broil from the Instant Pot and shred with two forks. Serve it on a bun and use the leftover gravy as au jus. Top the sandwich with some of our Subway Sweet Onion Sauce (Copycat).
Serve over mashed potatoes. Try our Mashed Potatoes Without Milk recipe as a base and top with the meat and gravy from the slow cooker. Try also serving over noodles.
Slow cooker London broil tacos. The meat will be fall apart tender when cooked properly. Shred the beef and use them to make tacos or London broil burritos along with our Authentic Spanish Rice.
Substitutions and variations
Paleo - just leave out the Worcestershire sauce and use bone broth or real chicken soup instead of the powdered mix.
For a completely different flavor profile, substitute beer for wine.
The gravy for this recipe is made without soy sauce but you can add 3 tablespoon of soy sauce to the sauce before starting the cook.
Don't have any chicken soup or beef broth, that's ok, make your London broil in the CrockPot with onion soup mix instead.
Add some new flavors to your London broil by using our Easy Pot Roast Seasoning Recipe instead of the salt and pepper alone.
You can make this recipe without searing for a quicker prep.
Thicker Gravy
Just add 2 tablespoon of corn starch to the gravy to thicken it up. Do this by slowly combining the corn starch with a little bit of water to make a slurry. Then add the slurry into the gravy. This helps it to keep from clumping.
How to Store Slow Cooker London Broil
Storage could not be easier. Crock Pots are nice because they often provide their own storage solution. Let the meat and sauce cool and then just put the lid back on and refrigerate for up to 4 days.
If you are trying to save space in your refrigerator, you can pour the juices from the Crock Pot into an airtight plastic bag and place the leftover meat inside as well. This will keep the London Broil pieces moist and tender. Refrigerate for up to 4 days or freeze for up to 6 months.
Special Equipment Used
This recipe was designed to be made in a slow cooker. There are lots of kinds of slow cookers but just like our Slow Cooker BBQ Chicken Thighs we used the CrockPot with the auto timer that defaults to the "warm" setting. You can also make this recipe in an InstaPot.
📖 Recipe
Slow Cooker London Broil with Gravy
Tender and juicy beef in slow cooked in a wine and onion sauce.
Print
Pin
Ingredients
2 ½

lbs

London Broil

salt and pepper

to taste

2

onions

medium

2

cloves

garlic

1

cup

red wine

dry or semi sweet

1

cup

chicken or beef broth

2

tablespoon

Worcestershire sauce

4

thyme sprigs
Instructions
Salt and pepper the London Broil roast and sear the meat on all surfaces.

Chop the onions and peel the garlic cloves. Place them in the bottom of the slow cooker.

Whisk together the red wine, broth, Worcestershire sauce, and thyme to make the sauce.

Place the seared meat on top of the onions and garlic. Pour the sauce over the meat.

Cook on low for 8 hours. If you are not eating right away, keep the slow cooker on warm until ready to serve.
Notes
Serving suggestions
London Broil with Carrots and Potatoes. Serve the slow cooked meat along side cooked carrots and potatoes. We suggest our Mashed Potatoes without Milk and Rum and Brown Sugar Glazed Carrots.
Spice it up! Add ½ teaspoon of cayenne pepper to the sauce before you pour it over the seared meat.
Shredded London Broil Sandwiches. Remove the London Broil from the Instant Pot and shred with two forks. Serve it on a bun and use the leftover sauce as au jus.
Nutrition
Calories:
302
kcal
|
Carbohydrates:
6
g
|
Protein:
45
g
|
Fat:
7
g
|
Saturated Fat:
2
g
|
Polyunsaturated Fat:
1
g
|
Monounsaturated Fat:
3
g
|
Cholesterol:
115
mg
|
Sodium:
329
mg
|
Potassium:
884
mg
|
Fiber:
1
g
|
Sugar:
2
g
|
Vitamin A:
38
IU
|
Vitamin C:
5
mg
|
Calcium:
66
mg
|
Iron:
4
mg
Recipe Categories