This recipe for Easy Honey Garlic Sauce is one of our favorites because it goes with so many different dishes. A delicious combination of sweet and salty flavors with just a hint of toasted sesame. This kosher sauce recipe uses only 5 ingredients and is ready in under 10 minutes. Best of all, it's pareve and has a gluten free variant so it works for everyone.
Jump to:
Ingredients used in this recipe
The complex flavors of this sauce make it seem so much harder to make than it is. All you need for homemade Honey Garlic Sauce is:
Soy sauce - provides the salty base for the sauce
Honey - this gives it the sweetness
Olive oil - to saute the garlic
Garlic - sweet and nutty
Toasted sesame oil - rounds out the sauce with a toasty finish
Why This Recipe Works
Super Easy to make. This is another sauce recipe like our Sweet and Sour Sauce (McDonald's Copycat) that involves little more than heating a few ingredients and stirring. That's less effort than a trip to the grocery store.
Quick to prepare. Making Honey Garlic Sauce could not be quicker! Heat the garlic long enough to bring out the toasty flavor of roasted garlic and you are almost done. Whisk the rest of the ingredients together and Easy Honey Garlic Sauce is done!
Goes with anything. Meat, fish, chicken, dairy, salads...you name it and this sauce will make it better!
Easy to store. If you have an airtight container or spare condiment bottle, you can store this sauce recipe for a few months in the refrigerator.
How to make Easy Honey Garlic Sauce
Step 1 - Prepare the garlic
There a few ways to do this. You can use a garlic press or you can mince the garlic using a sharp knife and cutting board. Either way, heat the olive oil and garlic over medium heat for 2-3 minutes until the garlic is slightly cooked but not yet brown.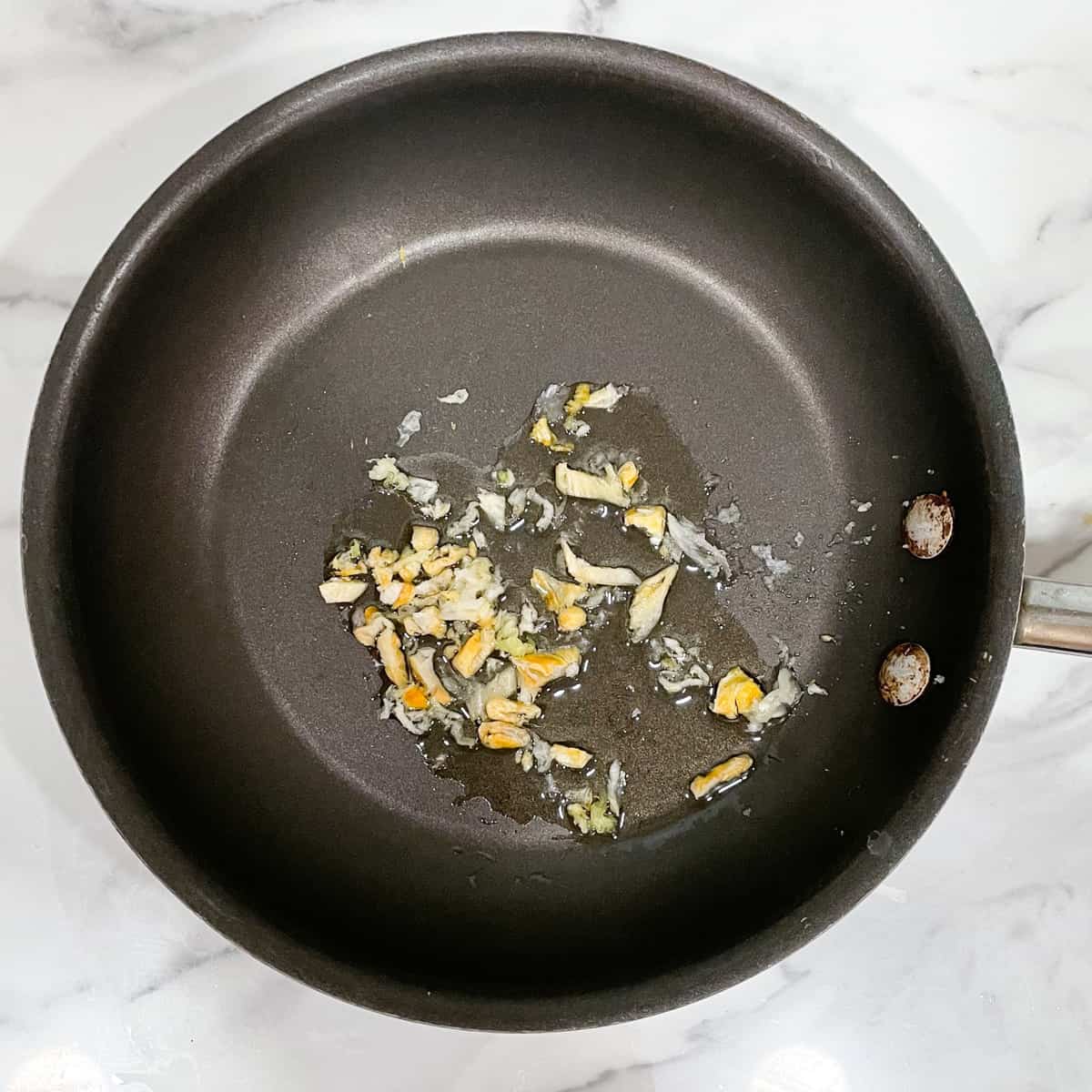 Step 2 - Whisk the sauce ingredients together
Pour the garlic oil into a mixing bowl along with the soy sauce honey, and toasted sesame oil. Whisk for about 20 seconds and you are done!
Recipe Pro Tips
Whenever mincing garlic, start by taking the whole garlic clove in the skin and laying a large knife on top of it flat side down. Gently hit the top of the knife and the skin of the garlic clove peals off easily. This makes mincing garlic super easy.
Sometimes honey can start to harden if it is left in its container too long. This doesn't mean it went bad. Scoop out the honey and toss it into the sauce pan with the garlic oil for a few minutes and it should thin out and be easier to incorporate with the rest of the ingredients.
Recipe FAQ
What is honey garlic sauce made of?
Honey, garlic, soy sauce, toasted sesame oil. Super simple!
Why is my honey garlic sauce not thickening?
You may have used too much soy sauce, this can throw off the balance of the sauce. Another possibility is that you heated the honey to thin it out and the sauce is still warm; let it cool and the sauce should thicken up a little bit. That being said, this is a thinner sauce and should not end up being too thick.
What does this honey garlic sauce recipe taste like?
It has a soy sauce base which is salty and savory. The honey provides a complimentary sweetness and the toasted garlic gives it a rounded depth that makes this one of our favorite versatile sauces.
Can I use brown sugar in honey garlic sauce?
You can substitute ¼ cup of brown sugar for ¼ cup of the honey. Add it to the garlic while it is cooking. When the sugar melts, pour it with the rest of the ingredients into a bowl and whisk.
Substitutions
If you don't have any fresh garlic (or you don't want to deal with cutting garlic cloves) substitute 1 ½ teaspoons of garlic powder.
You can make this sauce completely gluten free by substituting coconut aminos for the soy sauce.
Serving suggestions
Chicken dishes love salty and sweet sauces like this. Try brushing Honey Garlic Sauce over our Whole Roast Chicken during the final 15 minutes of cooking for Honey Garlic Chicken.
Use as a dipping sauce for our Pastrami Egg Rolls.
Add the full recipe into your slow cooker when making Slow Cooker London Broil to add a new depth of flavor.
Add ½ inch of grated fresh ginger to the garlic when cooking for Ginger Honey Garlic Sauce.
This sauce is very similar to the sauce used in our Vegetable Lo Mein Noodles. Add a splash of rice wine vinegar and use this recipe as a stir fry sauce.
Serve as a challah dip alongside our Miracle Challah.
Spicy Honey Garlic Sauce - dice ½ of a jalapeno pepper and add to the final mixture. Let it sit for at least 2 hours for the heat to permeate throughout the sauce. You can also use ¼ teaspoon of red pepper flakes for a similar effect.
Honey Garlic Salmon - follow the recipe for our Easy Apricot Glazed Salmon but use Honey Garlic Sauce instead of the apricot glaze for that recipe. This sauce is thinner than that one so you will have to brush the top of the salmon with sauce a few times during baking.
Marinated Chuck Eye Roast tastes amazing when you dip it into some of this sauce.
Special Equipment Used
We like to use this mini whisk for sauces and dressings like this one and our Subway Sweet Onion Sauce (Copycat) recipes. Whisks just work so well to combine all of the ingredients of a sauce quickly and evenly. This is especially important when making sauces with oil. If you don't have one of these then you can use a spoon or fork.
📖 Recipe
Ingredients
1

tablespoon

Olive oil

3

clove garlic

¼

cup

soy sauce

½

cup

honey

½

teaspoon

toasted sesame oil
Instructions
Mince the garlic and saute in the olive oil for 2 minutes over medium heat.

Add the garlic cloves and olive oil to the soy sauce, honey, and toasted sesame oil.
Nutrition
Calories:
705
kcal
|
Carbohydrates:
146
g
|
Protein:
7
g
|
Fat:
16
g
|
Saturated Fat:
2
g
|
Polyunsaturated Fat:
2
g
|
Monounsaturated Fat:
11
g
|
Sodium:
3248
mg
|
Potassium:
247
mg
|
Fiber:
1
g
|
Sugar:
140
g
|
Vitamin A:
1
IU
|
Vitamin C:
4
mg
|
Calcium:
38
mg
|
Iron:
2
mg
Recipe Categories