This kosher recipe for Easy Oven Baked Salmon with Apricot Glaze is sweet and savory and has a caramelized coating that is simply amazing! It's ready in just under an hour and only uses 5 ingredients. This recipe is kosher, non-dairy, pareve, and gluten free. Read on to learn how to make the best Easy Oven Baked Salmon with Apricot Glaze recipe from scratch.
Jump to:
Why This Recipe Works
Only 5 ingredients. This is not a complicated recipe. Salmon (with salt and pepper), jam or preserves, mustard. That's it!
Easy to prepare. Season the fish to your liking, mix the glaze, pour it over the salmon, bake. This recipe could not be easier.
The whole family will love it. Whether you are trying to serve someone with a sweet tooth or just a picky eater, the flavors in this dish just combine so well and work for everybody. My pickiest eater always wants second and third helpings of this glazed salmon dish.
Salmon is a healthy non-meat alternative. During the 9 days leading up to Tisha b'Av or at other times that we don't eat meat, we are seeking out non-meat proteins. Salmon recipes like this one and Salmon Tikka Masala and Homemade Brown Sugar Smoked Salmon are some of our favorites. Salmon is an excellent source of lean protein; not to mention Vitamin B, Potassium, and Omega-3.
5 Ingredient Recipe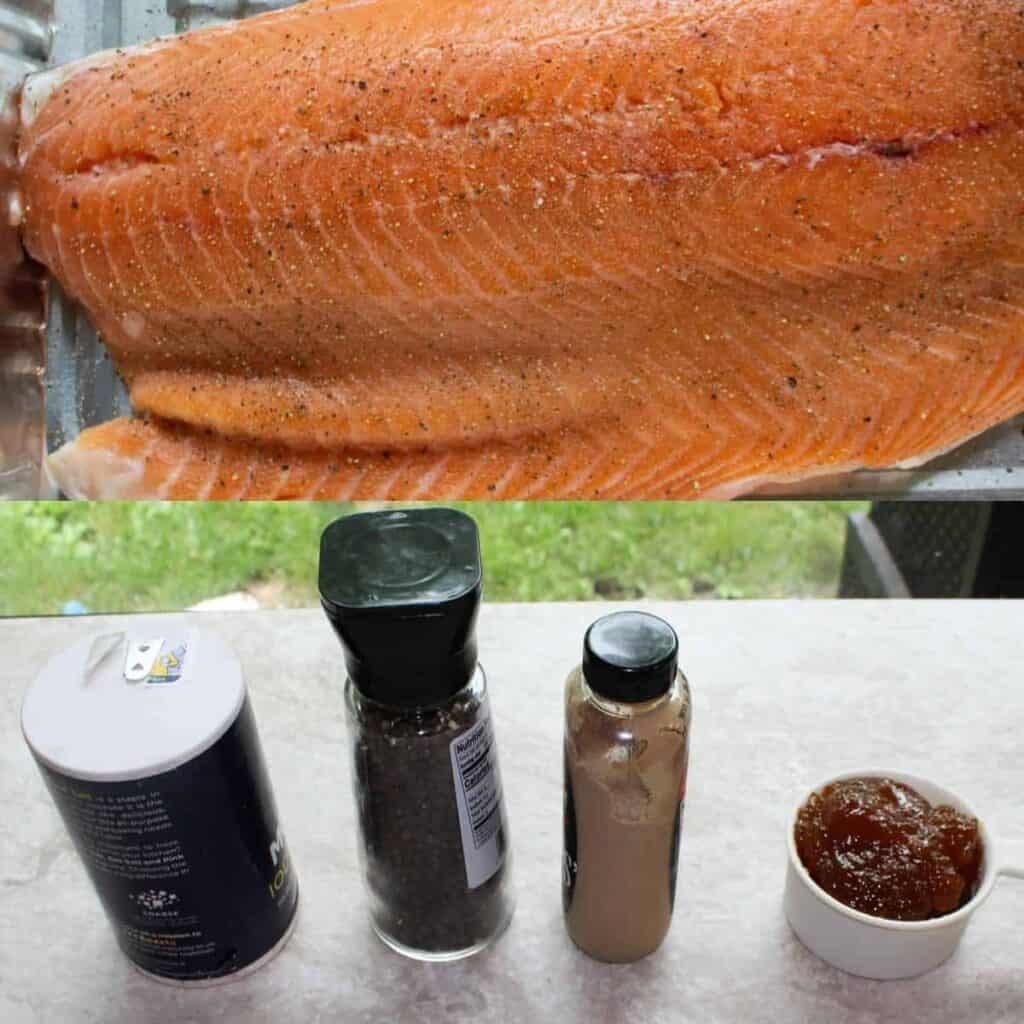 Salmon - salmon fillets work best because they are not too thick and not too thin and have plenty of surface area to pour on the glaze. You can also use salmon steaks but a lot of the glaze will fall to the side during baking and you will want to scoop it out before broiling so that it doesn't burn on to the pan.
Apricot jam or preserves - this is what provides the sweet flavor to the glaze. The apricot jam also has a high sugar content with caramelizes during baking and the final broiling step.
Dusseldorf mustard - provides acidity and tons of mustard flavor which balances out the sweetness of the jam. We like to use Dusseldorf mustard but you can just as easily substitute Dijon mustard.
Salt and black pepper - a must for any fish dish.
A Step by step guide to making this recipe
Time needed: 1 hour.
The best Easy Oven Baked Salmon with Apricot Glaze step by step.
Season the fish.

Sprinkle the salmon fillet with salt and pepper to your liking.

Make the glaze.

While the oven is preheating to 375ºF, mix the glaze. This is super simple to do with any whisk or fork. Just combine the jam or preserves with the mustard and water (to thin it out a little bit) and whisk away. You should not have to whisk this for more than a minute or so.

Pour the glaze over the salmon.

Pour the glaze over the top of the salmon and let it run down the sides. What is nice about a salmon fillet is that it has a high point that runs along the length of the fillet. If you pour the glaze along that high point, then it will run down and coat the salmon nicely on its own. You can use a spoon to scoop up the glaze in the pan and pour it over a second time.

Cover and bake.

Don't worry if there is still some glaze in the bottom of the pan before baking, you will use this later. Cover and bake for 25 minutes. This allows the fish to cook without burning the glaze. Uncover, spoon the glaze in the pan over the fish and bake again for 25 minutes uncovered. Turn on the broiler for 2-3 minutes to get the glaze bubbling slightly. Doing this will make a nice caramelized coating. Cover the salmon with the thick gooey glaze at the bottom of the pan and serve.
Recipe FAQ
Can I use a substitute for apricot jam?
Yes you can. This recipe relies on the apricot jam to provide the sweetness for the glaze. Also, the high sugar content makes a nice caramelized crust when it cooks. If you do not want to use apricot jam, we also like orange marmalade.
Can I use substitute fish for salmon?
Yes you can. For us, salmon is just the perfect fish for this dish but if you don't like salmon it is not perfect for you. I would stay away from tuna but you can try tilapia or whitefish which both love glazes like this.
Do I need to remove the skin before baking?
Leave the skin on. The skin acts as an extra protective layer for the fish and will help to keep the bottom from drying out while baking. If you are using fresh wild caught salmon then you can even eat the skin. Don't eat the skin if you are using farm raised salmon.
How do I know if the salmon is cooked fully?
It really depends on how you like your salmon. This recipe is designed to get the salmon to medium. You will know that it is there by gently flaking apart the top with a fork. If you meet a little bit of resistance but it flakes apart easily then you know it is done. Also, medium salmon should have a light pink color and not be dark pink or red. If it is, it needs another 2-3 minutes in the oven. Check and repeat for 2-3 minutes until it is done.
Tips and Suggestions
During Shavuot or the 9 days, this is a great main dish to serve alongside:
Did you enjoy this recipe? Let us know by leaving a comment below.
📖 Recipe
Easy Apricot and Mustard Glazed Salmon
Sweet and savory, a hit whenever it is served.
Print
Pin
Ingredients
1 ½

lbs

salmon fillet

½

cup

apricot jelly or preserves

⅛

cup

Düsseldorf mustard

or Dijon

⅛

cup

water

salt and pepper

to taste
Instructions
Salt and pepper the salmon fillet.

In a large bowl, combine the apricot jelly, mustard, and water. Whisk until fully mixed to form the glaze.

Pour the glaze over the salmon.

Cover and bake for 25 minutes.

Uncover and spoon the glaze on the bottom of the baking pan over the salmon. Bake for 25 minutes uncovered.

Place the salmon under the broiler for 2-5 minutes or until you see the glaze on top of the salmon start to bubble.
Nutrition
Calories:
212
kcal
|
Carbohydrates:
13
g
|
Protein:
23
g
|
Fat:
7
g
|
Saturated Fat:
1
g
|
Polyunsaturated Fat:
3
g
|
Monounsaturated Fat:
3
g
|
Cholesterol:
62
mg
|
Sodium:
117
mg
|
Potassium:
578
mg
|
Fiber:
1
g
|
Sugar:
9
g
|
Vitamin A:
89
IU
|
Vitamin C:
2
mg
|
Calcium:
21
mg
|
Iron:
1
mg
Recipe Categories