After all of the yummy fried foods we eat on Hanukkah it is nice to have an baked potato latkes recipe that is a little more...let's say...less greasy! These latkes are baked and not fried which means that you use your oven to bake them instead of a pan of hot oil. Don't think for a second that these baked potato latkes play second fiddle to their fried cousins, these are just as good.
When To Serve Baked Potato Latkes
Make these oven baked potato latkes as a break from frying latkes or sufganiyot. You can use them in the same way and even try the same toppings that we suggested in our crispy potatoes latkes recipe. These are also great as a side dish or as a main dish for Passover.
They're Baked But Are They Still Crispy?
Don't worry, baked does not mean soggy. These latkes can turn out just as crispy as the fried latkes but the oven does the work, not the oil. One thing I like to do is turn on the broiler for 1-2 minutes right at the end of the cooking time. This will provide heat from the top of the oven and give the latkes their signature crispy finish.
Latkes For Breakfast
Where I come from...Wisconsin...signature breakfasts always come with a potato dish. These baked potato latkes are similar to the hash browns that are usually served with eggs or pancakes. The soft and fluffy insides of the baked potato latke go very well with any number of breakfast egg dishes such as omelettes and sunny side up eggs. Take a few leftover of these oven baked potato latkes and toss them into the same pan used for making your favorite egg dish. Use a medium-low flame for about 5 minutes and they will come out just as crispy and fluffy as the night before.
📖 Recipe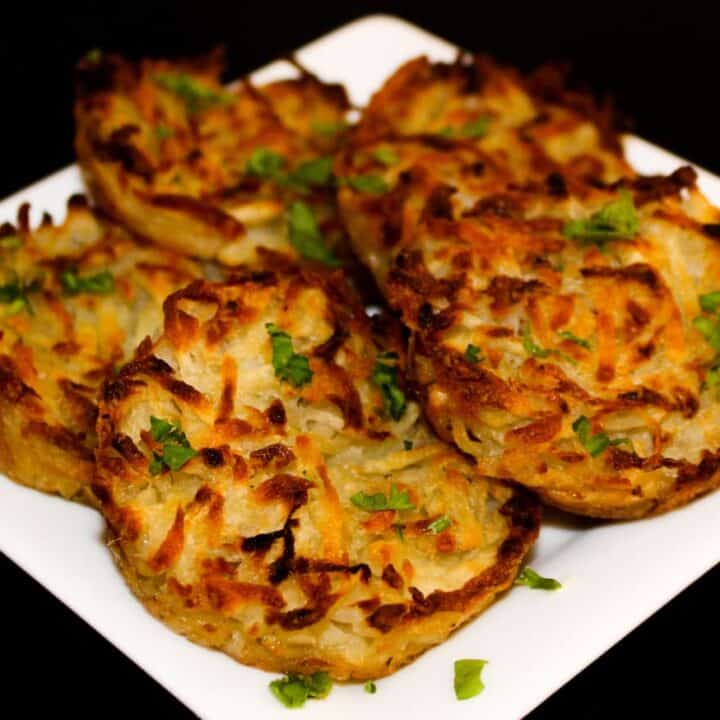 Oven Baked Potato Latkes
Quick, easy, and so much healthier than traditional fried latkes, these oven baked latkes are not to be missed.
Print
Pin
Equipment
potato peeler

food processor

muffin tins
Ingredients
5

potatoes

1

onion

1

tablespoon

oil

1

large

egg

1 ¼

teaspoon

salt

pinch

black pepper

nonstick cooking spray
Instructions
Preheat oven to 375ºF Spray muffin tins well with nonstick cooking spray.

Peel potatoes and place in bowl of cold water

Grate onion in food processor and empty into a large bowl.

Add rest of ingredients except potatoes to grated onion and mix well.

Grate potatoes in food processor. Remove shredded potato and squeeze out as much moisture as you can.

Mix them into onion mixture coating potatoes well.

Using a spoon scoop a bit of the potato mixture into each muffin cup, only filling about ⅓ of the way, and press down.

Once all the muffin cups have all been filled spray the tops of the, raw potato batter with nonstick cooking spray.

Bake in the oven for 30-40 minutes or until they look browned. if they do not become brown enough you may broil them for 1-2 minutes or until desired color is achieved.

Remove from oven and allow to cool slightly. Use a knife around the edges to pop the latkes out of their muffin cups.
Notes
Many people find this recipe works best using disposable aluminum muffin tins. 
Latkes can be made ahead and frozen in freezer bags. Warm in the oven to reheat. 
Recipe from nowaythatshealthy.com  
Nutrition
Calories:
44
kcal
|
Carbohydrates:
8
g
|
Protein:
1
g
|
Fat:
1
g
|
Saturated Fat:
1
g
|
Trans Fat:
1
g
|
Cholesterol:
8
mg
|
Sodium:
127
mg
|
Potassium:
196
mg
|
Fiber:
1
g
|
Sugar:
1
g
|
Vitamin A:
12
IU
|
Vitamin C:
9
mg
|
Calcium:
8
mg
|
Iron:
1
mg