This quick and easy Kosher Salami Flatbread is a snap to put together. Perfect for a simple weeknight meal or just a savory snack.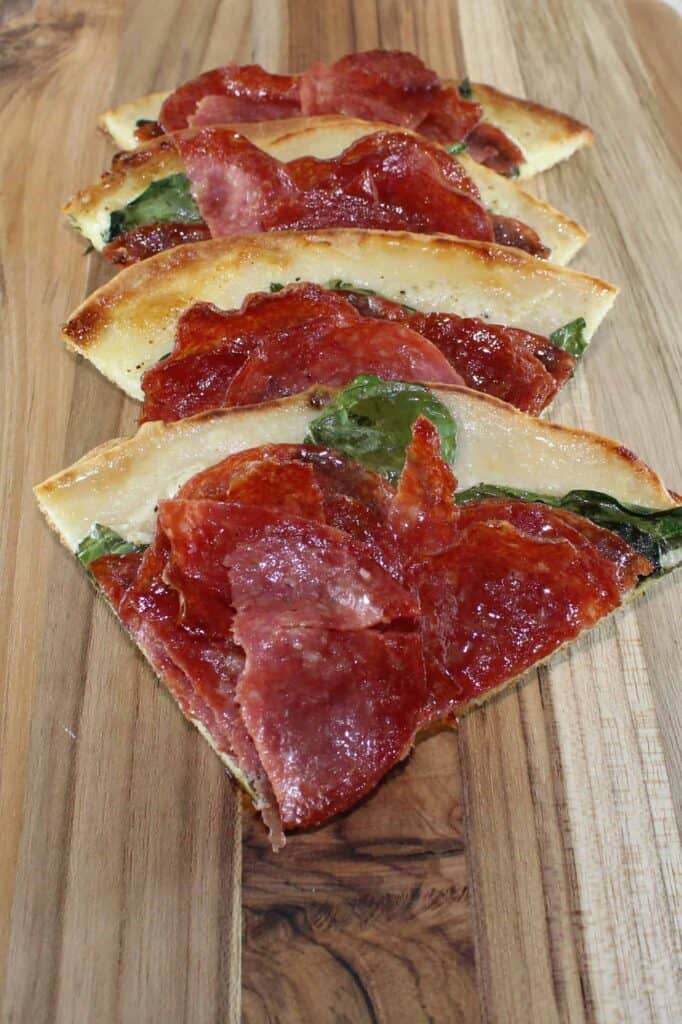 A great use for extra deli meat
We like to have deli meat sandwiches on Shabbat quite often. It is is a rare occasion when we buy the right quantity of meat. If you estimate exactly what the family will eat you always come up short. When you buy a little extra it is always way too much. If you forget to freeze your leftovers (like I always do) then you only have a few days to figure out how to turn them into a creative recipe. I came up with this recipe when I was looking for a fun way to use the extra salami I had in the refrigerator.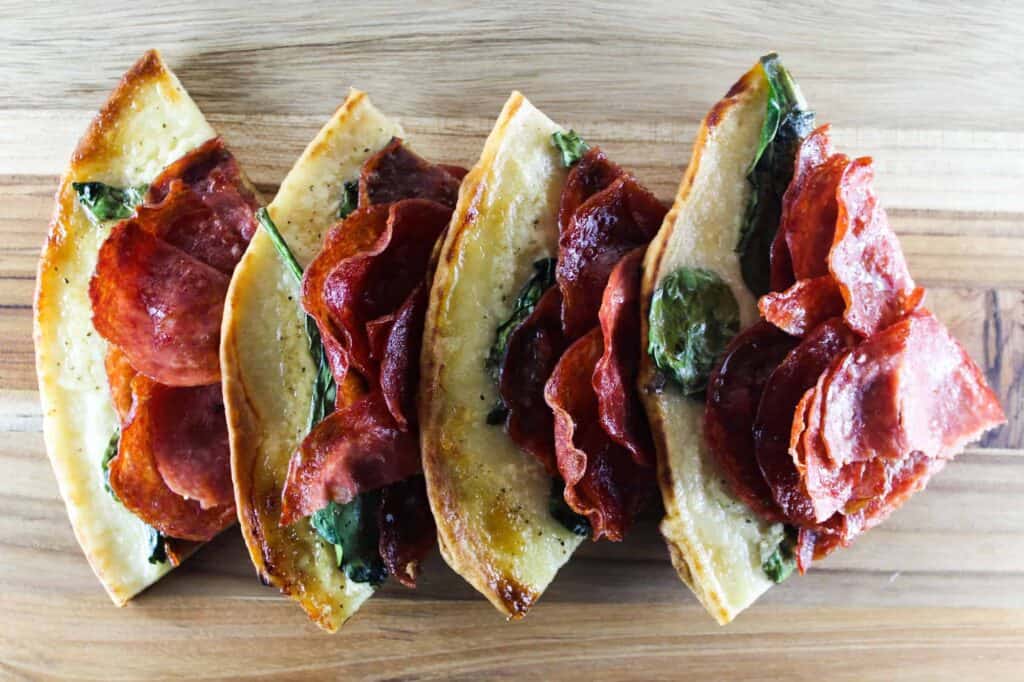 A Step by step guide to making this recipe
Time needed: 35 minutes.
Kosher Salami Flatbread step by step.
Choose the flatbread base

For this recipe, we had some store bought naan which serve as a really tasty base for the flatbread.

Spread on the aioli

This is really just a mixture of mayonnaise, garlic powder, and black pepper. Spread it on the flatbread but make sure not to use too much as it will melt in the oven and make an oily mess.

Add spinach

This is the healthy part of the recipe. I like to use fresh spinach for this layer but you can also use arugula or kale. The leafy green vegetable is not only healthy but looks really attractive.

Salami!

This is where the salami goes on and the sky is the limit on how much you want to use. I took some pre sliced salami and layered them on in a clockwise pattern. I started at 12:00 and went a full 3 hours around the clock and then covered the middle with a few more slices of salami. For salami fans you can go another few hours around the clock. For lighter fare, you can stop after 1 or 2 hours.

Bake

Bake until you see the salami start to curl and get a little bit brown. That is how you know it is done.

Slice

You do not need a pizza cutter for this. Just use a sharp knife and slice into ¼ths. Be careful to press down for your cuts instead of using a sawing motion. This is because the salami will come off with the back and forth motion.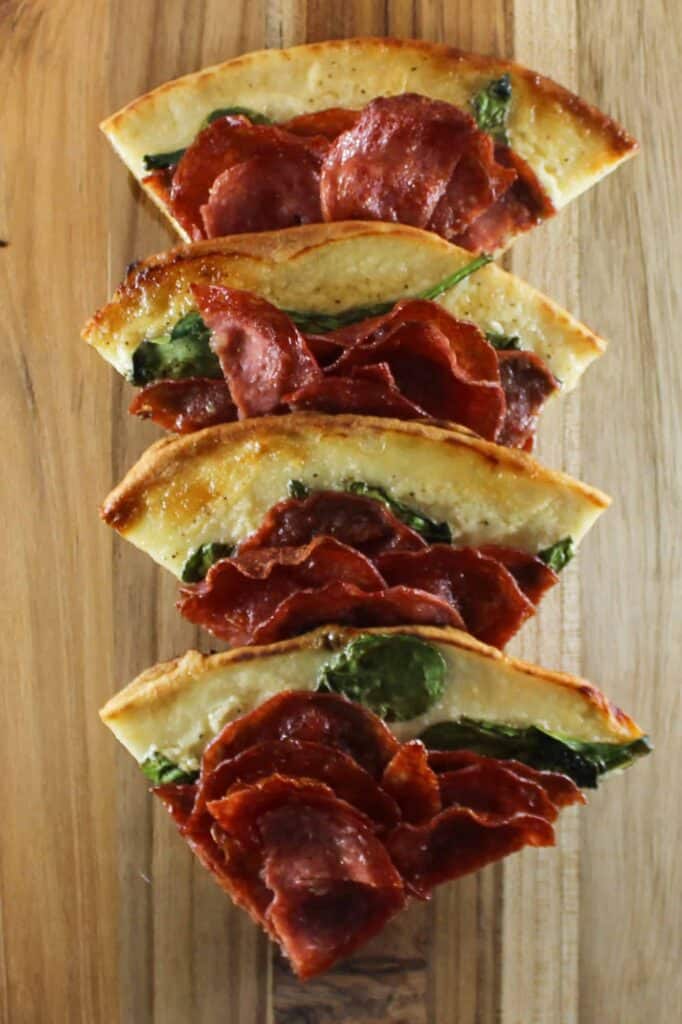 FAQ
Can I use a meat other than salami?
Can you ever! I love salami for this recipe because it has just the right look and flavor for a flatbread but you can also use pastrami, smoked turkey, bologna, almost any deli meat will work. If you are using something with less fat content like smoked turkey then you will want to cut 10 minutes off of the baking time in order to keep the meat from drying out.
How do I get a crispy flatbread?
You can get a crispier flatbread by putting it into the over for 10 minutes before you spread on the aioli. This will give the flatbread some time alone with the oven with no extra moisture and allow it to crisp up.
Can this be made kosher for Passover?
With some minor modifications you can make the kosher salami flatbread kosher for Passover. First, make sure that you are using ingredients that are approved for Passover use. The only major substitution that needs to be made here is the flatbread which is chometz. Swap out the flatbread for a piece of matzo. You will want to keep an eye on this while it is in the oven so that the matzo doesn't burn. The baking time can be reduced to 20 minutes and you should reduce the temperature to 350ºF
More recipes like this one
📖 Recipe
Kosher Salami Flatbread
A quick and simple meal or snack.
Print
Pin
Ingredients
¼

lb

salami

8

oz

spinach

fresh spinach

¼

cup

mayonnaise

1

teaspoon

garlic powder

¼

teaspoon

black pepper

2

flatbreads

naan, pita, or ready made pizza crust
Instructions
Aioli instructions
Mix the mayonnaise, garlic powder, and black pepper together.
Flatbread instructions
Spread the aioli evenly over the flatbreads making sure to coat as much of the surface as possible.

Add spinach to the flatbread.

Layer the salami over the spinach in a clockwise pattern. Use approximately ⅛ lb per flatbread.

Bake for 30 minutes at 375ºF.

Cut into ¼ths and serve when cool.
Notes
Do not use too much of the aioli. During the baking process it will melt and absorb into the flatbread. If you use too much, it will run off of the salami flatbread making an oily mess.
You can adjust the amount of salami based on your own personal tastes. Add more for a meatier flatbread and less for something lighter.
Nutrition
Calories:
559
kcal
|
Carbohydrates:
28
g
|
Protein:
21
g
|
Fat:
42
g
|
Saturated Fat:
10
g
|
Trans Fat:
1
g
|
Cholesterol:
57
mg
|
Sodium:
1727
mg
|
Potassium:
942
mg
|
Fiber:
6
g
|
Sugar:
1
g
|
Vitamin A:
10653
IU
|
Vitamin C:
32
mg
|
Calcium:
130
mg
|
Iron:
5
mg