This recipe for Bubbie's Mandel Bread (Traditional Jewish Cookie) is something that we always had on our table for dessert at family gatherings. I think this is because it is so simple and easy to make and compliments almost any meal. This Mandel Bread recipe is kosher, pareve, and non-dairy.
Jump to:
Why We Love This Recipe
Just like our recipes for Chocolate Chip Cookie Sticks or Easy Hamantaschen, Mandel Bread is great for a dessert spread on holidays like Shabbat or Yom Tov. At my house, this recipe was always expected to be served right alongside those others. There are so many reasons why:
Easy to make. While there is some prep work and baking to be done here, this is one of our easier recipes to make.
Goes with anything. Morning coffee, Shabbat kiddush or dessert, late night snack.
Traditional Jewish dessert with lots of options. This recipe is a stripped down recipe but there are so many ways to enjoy it. We give some suggestions at the end of the post as to options for tweaks to the recipe.
Stores well. Check out our storage instructions for the counter, refrigerator, and freezer.
A step by step guide on how to make this recipe
Step 1 - Cream the butter and sugar
Start by creaming the non-dairy butter and sugar. This is a fancy way of saying that the butter and sugar need to be mixed together really well. Use an electric mixer for this as creaming butter and sugar by hand will take a really long time. Start by cutting the butter into cubes, this will make it easier to mix.
Step 2 - Add eggs one at a time
Don't put away your electric mixer just yet, you will still need it up until the point that the flour is mixed in. Once the creamed butter and sugar looks good, add one egg and mix until it is fully incorporated. Add each egg the same way until you have added all of the eggs. Then add the vanilla, almonds, baking powder, and orange juice.This is also where you would add the anise or fennel seed if you are doing so.
Step 3 - Mix in flour by hand.
Ok, bye bye electric mixer. Now it is time to do some good old fashioned mixing by hand. We are doing this because we want to make sure that the dough is no over mixed and hand mixing is a good way to control that. Mix in the flour which is the last of the dry ingredients. Keep mixing until the point where all of the flour has just been incorporated.
This is what the dough should look like when it is ready: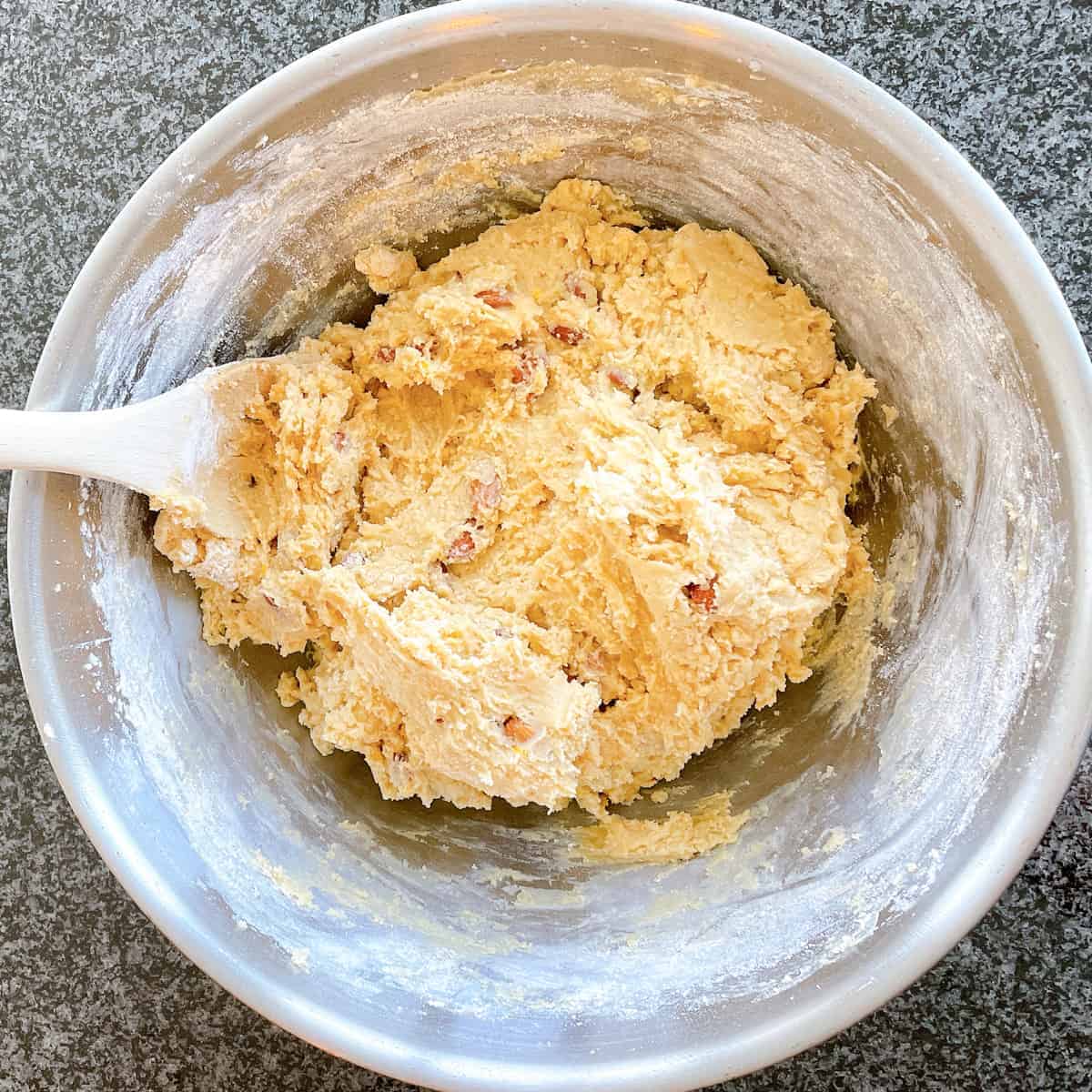 Step 4 - Mold the dough into a solid shape
The dough will be sticky so just be ready for that. Put enough flour on your cutting board or counter to account for this. Flour helps to make the dough not stick to the surface. Once you have prepared the surface, mold the dough into the log shape. Do not knead the dough, just handle it enough to get it into this shape:
Once it is there, cut it into ¼ths.
Step 5 - Bake
Take each dough section and form it into a shape that is approximately 2 inches wide and is the length of the baking sheet you are using. Line each baking sheet with aluminum foil or parchment paper. Each baking sheet should hold two of these. Bake at 350ºF for 30 minutes and cool completely.
Cut into cookies that are ¾ inch wide.
Bake for 25 minutes at 325ºF. For soft mandel bread, skip this step.
Recipe FAQ
Where does mandel bread get its name?
This biscotti type cookie does have an unusual name for those who didn't grow up with it. The name comes from the yiddish words for almond (mandel) and for bread (brot). It is aptly named this because almost every recipe for mandel bread uses almonds. Bread simply refers to the cookie like texture and the fact that it is cut from a loaf. It can also sometimes be called Kamish bread.
Can I eat mondel bread on Passover?
The short answer is yes. This recipe uses wheat flour so you will have to use our Passover Mandel Bread recipe instead. That recipe uses almond flour and is gluten free! Enjoy!
Can I use coffee instead of orange juice?
Yes. While this recipe is made with orange juice, you can substitute almost any liquid in for the orange juice. The flavor will change subtly but using coffee, amaretto, brandy, or water is just fine for this recipe.
Recipe Tips and Suggestions
Cinnamon and Sugar. Sprinkle the some cinnamon and sugar over the top of the mandel brot right after it bakes for the second time.
Chocolate Chip Mandel Bread. Add ¼ cup of chocolate chips to the batter with the almonds.
Pumpkin Pie Spice. Add 1 teaspoon cinnamon, ½ teaspoon nutmeg, ½ teaspoon allspice, and ½ teaspoon cloves to the batter along with the vanilla.
Chocolate Dipped Mandel Bread. Just look at that...a thing of beauty:
Mandel Bread vs. Biscotti
Mandel bread resembles an Italian biscotti recipe but is also distinctly a Jewish food. The main difference between them is that Mandel Bread tends to be smaller in size and plain while biscotti are traditionally larger and can be dipped in chocolate.
Can I leave out the almonds?
This recipe does get its namesake from almonds but that doesn't mean that you have to eat them if you are not a fan. Just substitute walnuts or pecans for almonds.
This recipe is non-dairy
A lot of traditional kosher dessert recipes are made non-dairy so that they can be eaten with any meal. This recipe is made without butter or sour cream.
Storage instructions
On the counter you can store them in an airtight container for up to 7 days.
In the refrigerator, they will keep for two weeks.
To freeze: place the cookies into a plastic resealable bag and seal (making sure to press out any excess air). Freeze for up to 6 months. Thaw for 45 minutes before serving.
📖 Recipe
Bubbie's Mandel Bread (Traditional Jewish Cookie)
Traditional kosher Jewish cookies.
Print
Pin
Ingredients
2

sticks

non-dairy butter

you can also use real butter for a dairy recipe

2 ½

cups

sugar

5

eggs

1

teaspoon

vanilla extract

12

almonds

5

teaspoon

baking powder

2

oz

orange juice

5

cups

flour

lemon zest from one lemon or orange zest from one orange

2

teaspoon

fennel seed or anise

optional
Instructions
Cream butter and sugar together.

Add eggs one at a time mixing after each egg.

If you are adding anise, fennel seed, lemon zest, or orange zest, add it here.

Add water, almonds, lemon zest, and baking powder to the mixture. Mix until incorporated.

Add flour and stir in by hand. Do not over mix.

Sprinkle a cutting board or counter with flour. Lay the dough on the flour and sprinkle it with more flour. Do not knead.

Shape the dough into the shape of a log approximately 14 inches long. Divide into 4 equal parts and shape into a thin log just shorter than the length of the cookie sheet you will be using.

Line two cookie sheets with aluminum foil and two of the dough logs on each one. Flatten the edges so that they are approximately 2 inches wide.

Remove from the oven and cool completely.

Cut into slices approximately ¾ inch wide.

Bake again for 25 minutes.
Notes
Recipe Tips and Suggestions
Everybody likes cinnamon. Sprinkle the some cinnamon and sugar over the top of the mandel brot right after it bakes for the second time.
Chocolate Chip Mandel Bread. Add ¼ cup of chocolate chips to the batter with the almonds.
Pumpkin Pie Spiced Mandel Brot. Add 1 teaspoon cinnamon, ½ teaspoon nutmeg, ½ teaspoon allspice, and ½ teaspoon cloves to the batter along with the vanilla.
Serve as biscotti. Morning coffee will never be the same without mandel brot. Biscotti and mandel bread are very similar so why not dip it in your morning coffee.
Chocolate Dipped Mandel Bread. Dip them in melted chocolate chips for a special treat.
Nutrition
Calories:
4669
kcal
|
Carbohydrates:
995
g
|
Protein:
96
g
|
Fat:
35
g
|
Saturated Fat:
9
g
|
Polyunsaturated Fat:
9
g
|
Monounsaturated Fat:
13
g
|
Trans Fat:
1
g
|
Cholesterol:
818
mg
|
Sodium:
2468
mg
|
Potassium:
1258
mg
|
Fiber:
20
g
|
Sugar:
507
g
|
Vitamin A:
1307
IU
|
Vitamin C:
29
mg
|
Calcium:
1483
mg
|
Iron:
37
mg
Recipe categories